Yes, I want to say a few words about it. The tragedy in Perm says that everything that happened is natural, and then it will only get worse.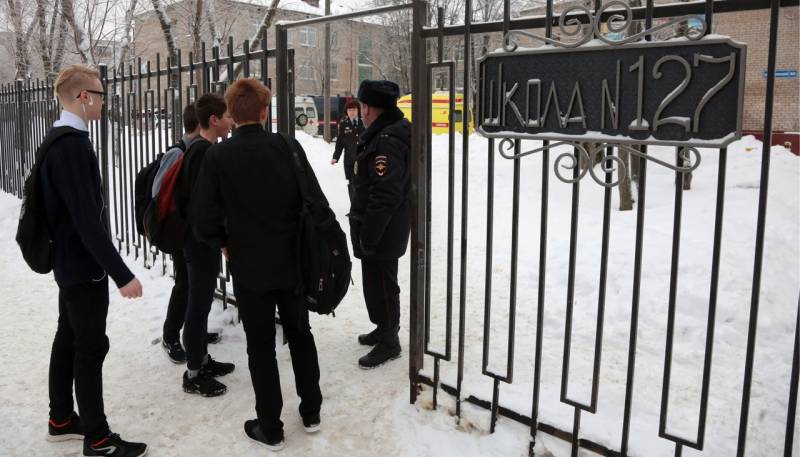 The only question is which city is next. Where the roof of the next drug addict or the mentally handicapped will fly, blood will spill, scooped-up officials of all stripes and ranks run. And again there will be assurances at the "highest" level that "measures will be taken, vigils strengthened" and other nonsense and rubbish.
Actually, nothing, as late.
Yes, stupid and boring, I will again look back and regret the destruction of the system of ideological pumping and civic education of the USSR.
Gentlemen Democrats Yeltsin and Putin successfully destroyed the Soviet system.
Well, or so: the enemy of Russia Yeltsin for 8 years completely destroyed everything that was created in the USSR, and Putin for 18 for years could not build anything new or at least repair the old one.
Well, not before that: gas pipelines are more important.
It doesn't matter here anymore, the fact is important: in 26 years - the most complete zero and social network as an educational factor.
Parents? I don't even want to look, not to say anything in their direction. It is unfair to charge all teachers and parents at school. Parents have the main responsibility: to feed, clothe and pay for education.
So, sorry, it's started. Parents need to plow first. And in the second too. Otherwise, the prospect, as Mr. Chubais said at the time, does not fit into the market.
And here are the first fruits. Parents fit into the market, teachers teach, not teach, their salary does not go to them. And the state arranges such a system, because it is much easier to manage the herd. Well, we already talked about this, right?
Of course, there were attempts. It was "Youth Unity", which died as "Young Guard of" United Russia ", were" Nashi ", now there is" Unarmia "and" Molodezhka ONF ".
In general, if judged, simulators of vigorous activity.
So it is clear that after the speeches and demonstrations of the forces Navalny realized that something had to be done. That's just clear that there is no most important thing - understanding what exactly needs to be done.
Because quietly shizeeesh, visiting the group "Molodezhki" in contact. Milota, leopards, contests, songs and more. Internet cud for mentally disabled. But - "Molodezhka ONF".
On the "adult" site a little more interesting. But there is no main thing - there is at least some kind of ideology.
Calls and slogans enough. But how to create change, if there is no main thing: there is no understanding of the essence of change? Just shaking the Internet air by those who seem to have to do something, but do not know how.
And here is the logical result. Stabbing as a result.
Yes, as I said above, they will now devote all their forces to improving security in educational institutions, will have directors, and so on.
What's the point?
No one is going to do the main thing. At least to think about the fact that it is half the battle to knock out additional amounts for protection from parents. Somewhere will pay, but somewhere not. For you will not take money from the shelf if you have not put them there.
The main thing is the prevention of such cases, inspired by relevant videos and movies. And the way of life, promoted by dozens of talk shows in the style of "die you today, so that I die tomorrow".
And here's how not to recall the defective, totalitarian and stepwise preparation of citizens in the USSR? Oktyabrenok-pioneer Komsomol. Was it bad? And now is better, yes? Is tv-internet internet better?
Modern children, of course, are not perfect. But not idiots without exception, is it? Many will grow up and wiser. Many do not. But the whole question is what ideals will be written in their heads in the process of growth and intelligence.
By the way, Navalny just does not create "young people" and "ours", he has all his own. And he calls for young people to play completely adult games. Type Maidan Square and the House of Trade Unions.
And this is obviously more interesting and more productive than the milots and frankly retarded contests of the youth team.
And in general, I don't remember who said it, but said great: working with the younger generations without ideology is training for those who have ideology.
The internet has ideology. So - to be continued.