The Pentagon has officially recognized the threat of the United States from the status-6 submarine developed in Russia, equipped with a nuclear warhead of up to 100 megatons, reports Defense News.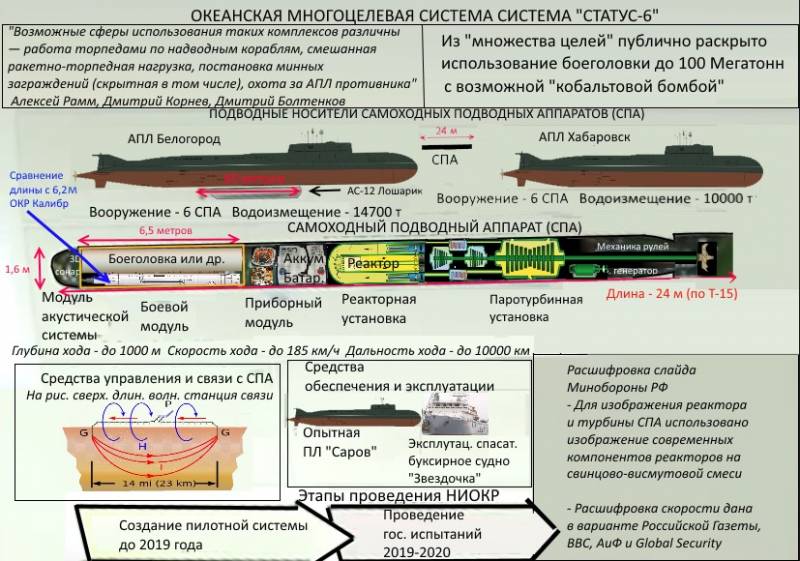 The publication drew attention to the preliminary draft of a new "Nuclear Policy Review" - a document defining the role of nuclear
weapons
in the US national security strategy, which is being prepared for President Donald Trump. It contains a black and white diagram, which reports on the development in Russia of an intercontinental autonomous nuclear torpedo "Status-6".
According to US intelligence reports from The Washington Free Beacon, these weapons were tested on 27 in November on 2016 from the Sarov submarine. "Status-6" has a range of 10 000 kilometers, maximum speed - above 56 nodes, the depth of the dive - up to a kilometer.
In November, 2015, during a meeting with Russian President Vladimir Putin on defense issues, included a number of presentation frames on Status 6 in the plot of a number of Russian television channels. According to the slides on the air, this system is a weapon of mass destruction, intended, among other things, to destroy the objects of the economy of the enemy. Presidential spokesman Dmitry Peskov in connection with this leak promised to take "preventive measures to prevent this from happening again."