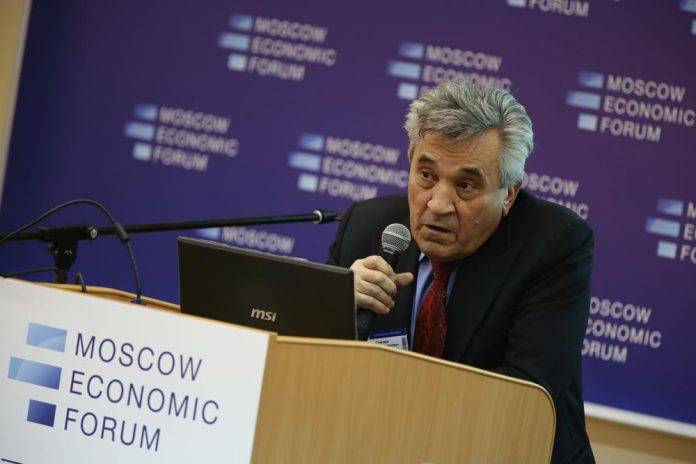 From the official 86 trillions of rubles of Russian GDP, if you deduct a double count, there will be no more than 56 trillions. This is less than a trillion dollars at the exchange rate, with 35% of GDP accounted for the material part, and 65% for services. At the same time, in the material part two thirds of nomenclature positions make up today less than 10% to the level of 1990 of the year, while approximately 25% of goods are no longer produced, these positions have disappeared. The poor are not 20, but 70 million people, that is, half of the country, the unemployed are not 10, but 30 million, the depreciation of fixed assets for production purposes is not 49,5%, but 76%. We have not only housing, we have factories and factories - in disrepair. Inflation is not 2,5%, but 8,5%. Nabiullina says: "It only seems to people that prices are rising." And, you know, she is right. Because in Rosstat there are 2000 employees in all regions who bypass "their" stores and consider prices, for example, for meat and bread. What are they doing in stores? By the arrival of these controllers, what they report in advance, they simply change the price tags - for example, from 400 to 250 rubles per kilogram of beef. As a result, we have no inflation. Is it possible to expose, who should and will deal with this?
But why are these data distorted? To reduce government spending on social benefits. That is, the issue price is calculated in many billions of rubles. But inflation has actually dropped: from 14% in 2015 and 11,5% in 2016 - to 8,5% last year. Due to that, due to the sale of stock, products of the second and third grades, that is, non-liquid, conditionally speaking.
In the year 2017, the capital outflow also increased: black and gray and white, that is, according to the official balance of payments. But we must understand that the latter is interest on loans, debts on transactions and dividends - in general, a drop in the ocean. Although we reserve half of Russian export earnings in US securities and special accounts of the Fed as a guarantee for all financial requirements and imputed payments. This trillion dollars plus 1,3 trillion are offshore. But, probably, the most important thing - according to the World Customs Organization, the real value of our exports is two times higher than shown by the Rosstat and the customs service. Only non-refundable VAT on export transactions reaches 80 billion, or almost 4,5 trillion. rubles, this is a quarter of the federal budget expenditures for 2017 a year.
The situation with us, I'm sorry, is worse than in Ukraine. There, the Americans insure, here we are on sanctions lost more than a trillion dollars. And if we add to this the additional costs of the so-called import substitution, then this amount, starting with the 2014 year, can be safely increased by one and a half times. After all, there is a direct cost of production, but there is a full, taking into account all the associated costs. So, the total cost of a barrel of Russian oil today is higher than 60 dollars, we sell energy completely at a loss, as those anecdotal heroes who stole a box of vodka, sold it, and drank money. Or the classic "not enough to eat, but we will take out" - just not in the grain, but in the oil and gas version. In a good way, we need to buy oil, and not to sell, if it is cheaper than 80-100 dollars per barrel. But what?
If nothing bad happens, all this disgrace can last another thirty years, up to a maximum of 2050, but we don't have any development in this mode, I'm talking about it without any pathos - just like a professional statistician.