The US Department of Defense 11 January issued to Sikorsky Aircraft (owned by Lockheed Martin) a contract for the production and supply of Saudi Arabia through intergovernmental foreign military sales (FMS) additional 17 UH-60M Black Hawk multi-purpose helicopters, reports
bmpd
with reference to Jane's Defense Weekly.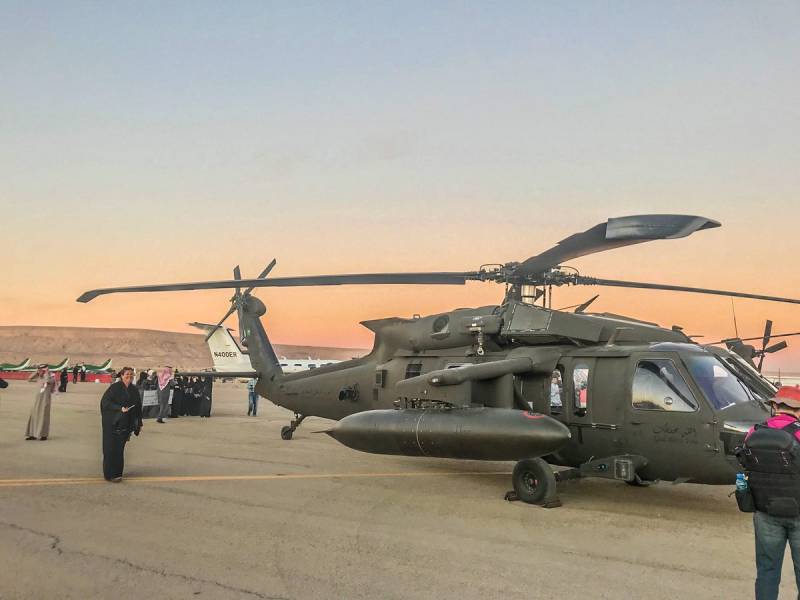 Helicopter Sikorsky UH-60M Black Hawk special configuration from the 1st aviation Saudi National Guard Brigades. Riyadh, 12.01.2018.
The transaction value was 193,8 million. Helicopters must be delivered in a "unique configuration".
According to the report, "eight helicopters are designed for the National Guard of Saudi Arabia, and nine for the special forces of the Saudi Arabian ground forces." Delivery must be completed before the end of 2022.
According to the representative of Lockheed Martin, these machines "are not included in the contract of the US Department of Defense received in June 2017 for the production and supply of the National Guard of Saudi Arabia through FMS 115 Black Hawk helicopters - 40 multi-purpose UH-60M and 75 medical-evacuation NN-60M ".
As previously reported, last summer, the National Guard under Saudi Arabia already had 24 UH-60M helicopters.