The CAA freed more than 13 settlements in the province of Aleppo with the support of the RF AUC. Terrorists used chemical weapons against the Syrian army in Idlib. Reports about it
FAN
with reference to Syrian sources.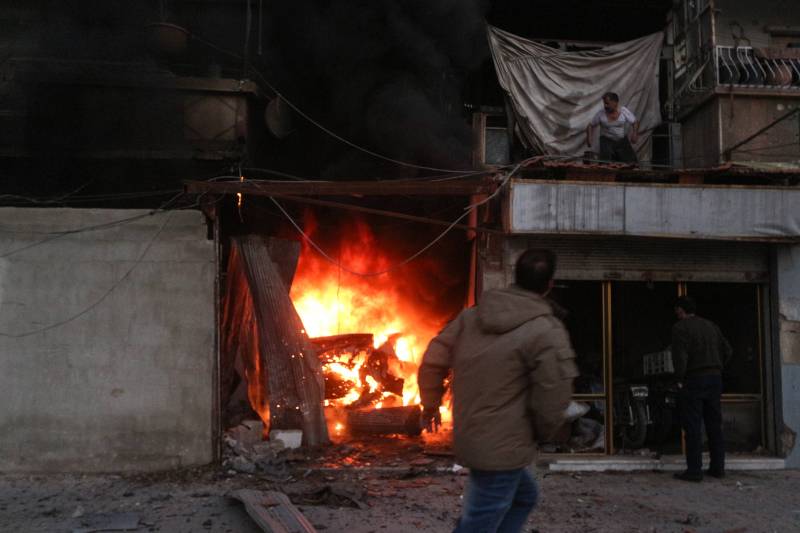 More than 500 families of local residents who were evacuated during the occupation of these areas by Islamists returned to the southwest of the province of Damascus. The Syrians returned to Beit Jinn and Mugr Al-Mir settlements after three years in refugee camps. In Eastern Gute, clashes between the armed opposition and the units of the CAA continued. By evening, it became known that government forces had launched an offensive in the area of ​​the settlement of Hazram, located in the east of the oasis. As a result of the battles, the CAA took a number of strategic positions, as well as the Tal Firzat quarter.
In the northern part of the province of Aleppo, skirmishes between Kurdish units and the forces of the Turkish army were again recorded. The armed clashes unfolded on the approaches to the settlements of Karakh Baba and Jisr-Khashrak. In addition, the opponents fired mutual attacks near the villages of Basufan, Jundeiris, Raju and Muscanli.
In the south of Aleppo, throughout the day, battles between Islamists and ATS troops supported by Shiite militias and the Russian Federation's armed forces did not subside. For the past day, the settlements of Jabal Al-Mdawar, Wadi Al-Suno, An-Numania, Buweida Sagir, Al-Wae, Rasm Al-Karkur, Rasm Al-Bisas, Rubayat, Al-Bakat, Bakat Rabiyya, Hanuta, came under the control of the CAA Jebb Az-Zeith and Mashrfat Al-Buweida. As a result of armed clashes around 30, militants were eliminated. After all the territories of the Al-Hass plateau were cleaned of militants, the units of the CAA were redeployed to the south-east of Idlib province, to the main combat zone.
It became known that government forces had lost several settlements in the southern part of Idlib province due to the chemical attack of the Dzhebhat an-Nusra terrorists (banned in the Russian Federation). After the positions of the UAR army were fired with shells with poisonous chlorine, parts of the CAA were forced to retreat. The servicemen left the settlements of Abu Omar, Harib, Rabia and several other villages. Throughout the day, sources controlled by the armed opposition continued to publish reports of casualties allegedly incurred by the Syrian Arab Army (CAA). Whereas, according to Al Masdar News, the ATS forces managed to destroy several field commanders near the Abu Duhur airfield. In addition, around 200 radicals were eliminated as a result of the sorties of the Russian Aerospace Forces and the attacks of the CAA.
To the northeast of the administrative center of the province of Hama, government units of the UAR launched a powerful offensive against the positions of the IG terrorists (the group is banned in the Russian Federation). Significant support for the CAA and its allies was also provided by the Russian HVAC. As a result of the clashes, the settlements of At-Tufahia, At-Talal Al-Mutalla, Al-Sukkari, Abu Kahaf, Anik Bazhra were liberated.