The Russian armored personnel carrier BTR-87 will receive additional mounted protective panels made of special ceramics and titanium, reports
Messenger of Mordovia
With reference to the departmental publication of the Vyksa "Case Plant"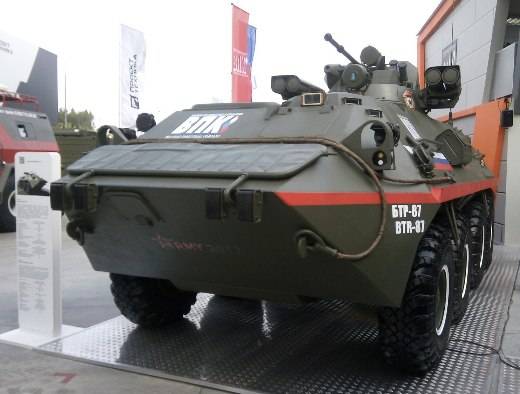 This development of the "Military Industrial Company" was first presented at the international military-technical forum "Army 2017".
The armored vehicle is considered "a radical modernization of the well-known family of BTR-80 and BTR-82 with qualitatively new characteristics". The machine also significantly enhanced mine protection.
"A mounted combat module with a 30-mm cannon and a paired 7,62-mm machine gun looks similar to the one that is installed on the currently produced equipment. However, as you can see, the main armament is enhanced by 4 anti-tank Kornet anti-tank missiles. A thermal imager and a laser rangefinder are included in the sighting system, "writes the author of the material, Lev Romanov.
The BTR also has improved mobility characteristics: "thanks to the engine in the 312 hp, the armored personnel carrier can reach a maximum speed of 90 km / h; water speed is one of the highest for this class of equipment - up to 14 km / h, power reserve - 800 km, "the publication says.
Also important is the fact that the design of the BTR-87 is unified by the applied components and assemblies and can be produced at all plants located in the company's management.