The site of the Naval Institute of the United States Navy has information that the new American ship USS Portland (LPD 27) will soon receive the LaWS (Laser Weapon System) installation of a new generation.
The US Department of Defense seriously aims to use combat lasers. At the moment it is
weapon
relatively expensive, but has almost unlimited ammunition and "free" ammunition. The first stage of testing laser weapons aboard the American ship was launched in 2014, when the LaWS system was installed on the amphibious assault dock USS Ponce (LPD-15).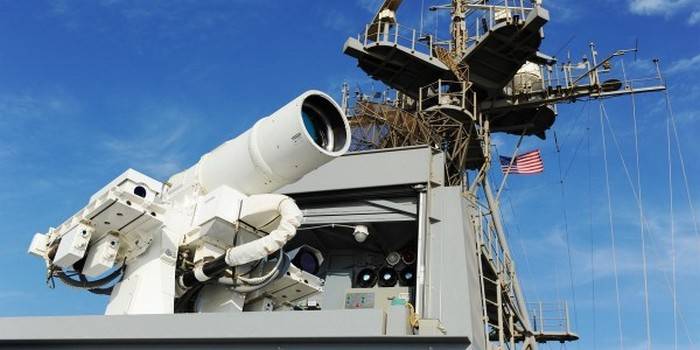 In the autumn of this year, the USS Portland transport dock (LPD 27) will receive a LaWS installation of a new generation, while the military department still does not disclose its characteristics. According to Brian Metkalf, program manager of the US Navy's Laser Weapon System, we are talking about trial operation, the laser machine will not be integrated into the ship's combat system, and its fate will depend on the test results.
Today, almost all types of American troops are testing various types of laser weapons. For example, the US Navy is experiencing shipborne installations of the Laser Weapon System (LaWS), ground forces - Army High Energy laser installation, Mobile Demonstrator (HEL-MD), Marine Corps - ground defense air defense system (GBAD). For the US Air Force, Self-Protect High Energy Laser Demonstrator (SHiELD) systems are being developed that can destroy missiles. In addition, combat laser systems are being developed for AH-64 Apache attack helicopters and AC-130 "flying artillery batteries", reports
"Warspot"