The Turkish President spoke about the situation in the north of Syria. His speech was devoted to strengthening the position of the Syrian Kurds. According to Erdogan, Turkish patience is coming to an end. Statement by the Turkish President leads
RIA News
:
Our patience towards those who are trying to create a terrorist corridor is running out. Every day, it is becoming increasingly clear goals in Syria and Iraq. We do not have to endure this lie. We have the strength to expand the actions launched in the framework of Operation Euphrates Shield.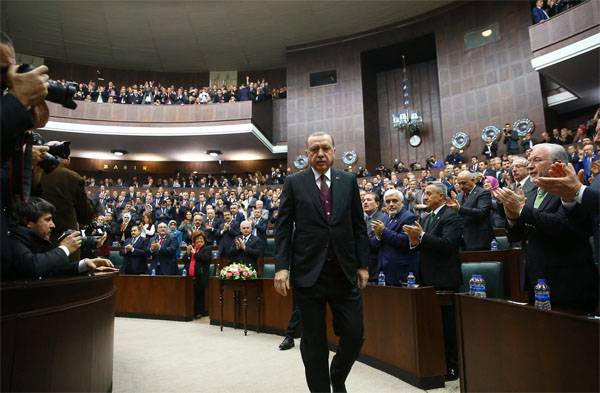 Under the "terrorist corridor" official Ankara means the territories that are occupied by Syrian armed units in the north of Syria - near the borders with Turkey. Operation "Euphrates Shield", which was once positioned as an operation "helping the Syrian population in the fight against ISIS (* banned in the Russian Federation), is now confirmed by Erdogan himself, the real goal was to squeeze the Syrian Kurds away from the Turkish borders even transferring the border of Turkey to the interior of the northern provinces of the SAR.
In his speech, Erdogan stated that a forceful Turkish operation is possible in the Syrian city of Afrin, where there are detachments of the so-called Syrian Democratic Union. The President of Turkey stated that a threat was coming from the VTS to the Turkish address. The piquancy of the situation is that the VTS is actively supported by the United States of America.