On the pages of the American edition of Defense News published material, which refers to the build-up of Egypt's military power, and that such build-up should cause concern to Israel. The article says that Egypt, which was in the most difficult economic situation and survived the so-called "Arab Spring", was able to concentrate forces and resources around the security improvement program. It is noted that over the past few years, Egypt has signed contracts for the purchase of weapons more than in the previous decade.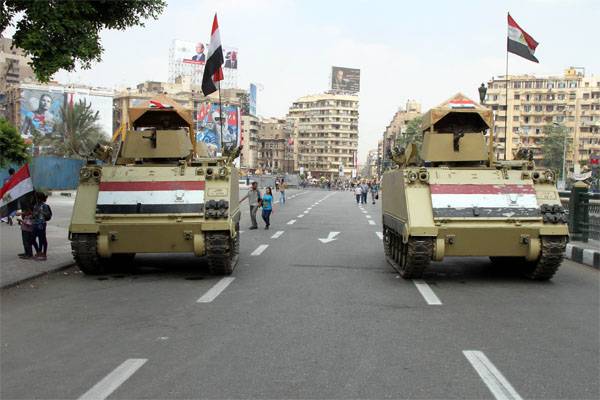 Article
DN
, referring to the opinion of the Israeli military historian from the Jerusalem Institute for Strategic Studies Yagil Henkin, it is noted that the Egyptian authorities are trying to procure weapons in such a way as not to be dependent on a single supplier. As an example, purchases from France, Russia, China, and the USA are given.
Readers are reminded that Egypt acquired French helicopter carriers, American
Tanks
, concluded contracts for the supply from Russia of MiG-29 fighters, military helicopters, and other equipment. The article also speaks of joint military exercises of the Egyptian and Russian armies, as well as of agreements on the possibility of using Egyptian ports for ships of the Russian Navy and airfields for Russian air forces.
At the same time in the publication in relation to Egypt, the phrase Donald Trump is played up when he was a US presidential candidate: "Let's make Egypt great again."
It is noted that the "militarization" of Egypt is carried out under the slogan of combating terrorism and protecting mining sites (energy).
Another Israeli expert, quoted by Defense News, (his name is Ofir Winter), states that, despite the fact that Israel is not responding to the rise of Egypt in the region, the growth of Egyptian military power cannot be ignored. According to Ophir Winter and Yagil Khenkin, the "cold peace" with Egypt can turn into a "hot border conflict".
From the material:
If the moment comes when they are on our borders, it will be a moment to worry, but then it will probably be too late. It is time to worry now. We already allowed Cairo to send more troops to Sinai than is written in the Israeli-Egyptian peace agreement.