The Ukrainian press continues to publish interviews with Israeli military instructor Zvi Arieli, who coached Ukrainian military personnel. Considering that interviews with this person in the Ukrainian press are published with enviable regularity, it can be stated that Mr. Ariely does not suffer from media reticence, which, frankly, is not quite typical for the instructors of foreign armies.
In his next interview with the publication "Apostrof", Ariel again argued about whether it was possible "to make Russia withdraw from the Donbass". At the same time, the Israeli instructor in his speech "clarified" to Ukrainian readers how Russia differs from Nazi Germany. Of
material
:
Of course, there (in Russia) there is great-power chauvinism, but it does not play such a big role as, say, in Nazi Germany, which was ready to do everything to impose its ideas on the world in order to bring them to life. That was ideocracy. Russia is not so. Russia is not ready for anything. They are not ready to lose everything in order to capture Ukraine or to do something equally crazy. For example, apply nuclear
weapon
to attack Estonia and so on. And they may agree to the introduction of peacekeepers or even leave Ukraine - under certain circumstances.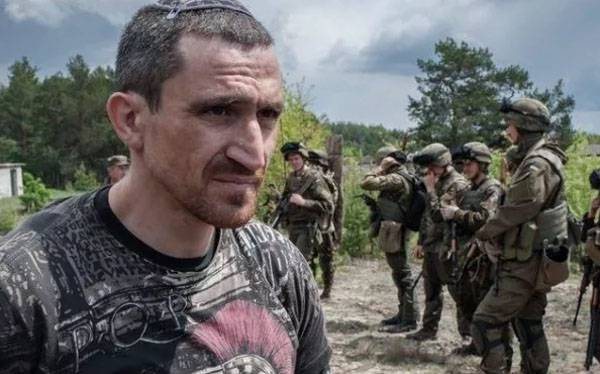 Further, Arieli said that today there is no force in the world that would like to unconditionally put pressure on Russia, since most of the developed countries of the world have close economic relations with Russia.
Israeli expert:
The West has very close economic relations with Russia. It is a delusion to assume that all these connections are broken. The West, for example, receives Russian gas. And if the Nord Stream-2 is built, for Ukraine it will be a disaster. Because it will be possible not to transport gas through the territory of Ukraine. And this is at least two billion dollars less in the budget will flow.
Further, Ariely actually goes to praise to Russia and the Russian army:
But you can put pressure on Russia. This is not Iran, not the "Islamic State" (* banned in the Russian Federation), not some crazy people who are ready to blow themselves up in Ukrainian or Russian trolley buses ... Russia has a fairly strong and effective army, this is true. I think, for example, that in Syria the Russians showed themselves perfectly. Yes, in Syria, quite predictably, all the expected weaknesses of the Russian army appeared, for example, low penetration of precision weapons into its army, which was compensated by carpet bombing tactics, discrepancy between the declared characteristics of their "unparalleled weapons in the world" and real indicators of their combat use and much more , but at the same time they managed to save the Assad regime. After all, everyone thought that it would be like in Afghanistan, that they would get stuck there - but nothing happened.
Arieli noted that Russia with minimal forces was able to effectively coordinate the actions of pro-government forces in the SAR, which made it possible to succeed.
Ariely:
America took a step back, and Russia today has established itself as a very important player in the Middle East, no less influential at this stage in this region than the United States.
After that, an Israeli expert commented on the possibility of Ukraine's military victory over Russia. According to Zvi Ariel, Kiev is not capable of forcing Russia to withdraw from the Crimea and the Donbass by military means.
From the material:
Ukraine (for this) is not capable, because: a) it has no allies for this; b) Ukraine is not able to build a strong army. Can not, does not want - it does not matter. The main thing - the speed of reforms leaves much to be desired.
In addition, Arieli noted that he "laughed a lot" when he heard about statements about the alleged need to implement the "Marshall Plan for Ukraine." According to the Israeli, it was ridiculous for the reason that this proposal was made by Lithuania, which itself cannot financially help Ukraine, while others (for example, Germany) do not want to.