Turkish media reported that the police arrested a man suspected of involvement in the attempted assassination of Russian Ambassador to Turkey Andrei Karlov. Recall that the Russian ambassador was killed by several shots in the back of 19 December 2016, at the Center for Contemporary Art in the capital of Turkey. The immediate killer of Andrei Karlov was the 22-year-old ex-employee (still it is not clear whether he was former or active) of the police Mevlut Mert Altyntash. It was eliminated in the course of the operation by Turkish special forces soldiers. Earlier it was reported that Altyntash had two accomplices.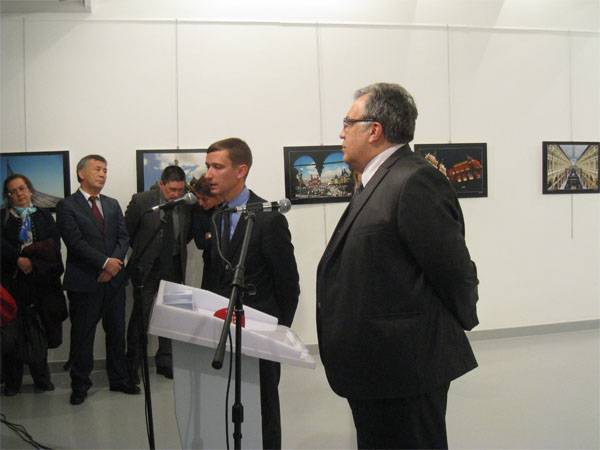 Now it is reported that one of Altyntash's accomplices was taken into custody.
RIA News
with reference to the Turkish media publishes the initials of the offender: V.K.A.
In Turkish
news
issues claim that this person is allegedly a member of an organization headed by preacher Fethullah Gulen. He was previously dismissed from public service.
It is known that the same person was delayed earlier (on suspicion of participating in a coup attempt), but was then released for lack of evidence.
Based on these data, it is quite possible to assume that in this case the Turkish authorities are solving their problems, stating that an unnamed V.K.A. is an accomplice of the killer Andrei Karlov. In opposition Turkish circles, it is noted that in this way Ankara can jail a person suspected of having links with the so-called "Gulenists", and accusations of involvement in the murder of the Russian ambassador are a pretext.