The second Navy aircraft carrier of the People's Liberation Army of China (PLA) may first go to sea and begin running trials in February of this year, the Global Times newspaper reported.
The first aircraft carrier built in China is likely to begin sea trials closer to the Spring Festival in mid-February of this year.
- quotes the publication of the words of the Chinese military observer Li Jie.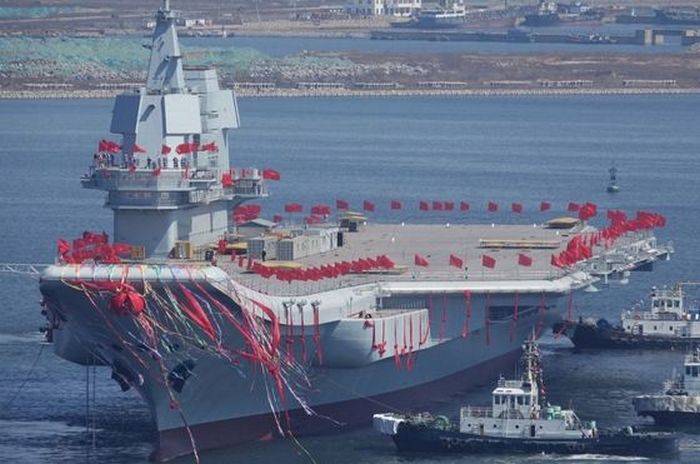 As the analyst noted, previously the only aircraft carrier Liaoning in the PLA Navy ran into the South China Sea and had already passed through the Taiwan Strait. According to Li Jie, "it's possible that ... the crew of China's second aircraft carrier is on board the Liaoning to train and transfer experience."
The second aircraft carrier of the PLA Navy is located at a military shipyard in Dalian (Liaoning Province) and is the first ship of this class, completely built in China. He has not yet received the name, but is known in the Chinese media as "Shandong" or the 001A project. The ship was launched on April 26 2017, must be transferred to the military, according to some estimates, no earlier than in 2020 year. According to Hong Kong media, Beijing intends to put the aircraft carrier into service by the end of 2018.
According to Chinese media reports, the main work on the ship has been completed. 3 December 2017 of the year over the carrier was seen clouds of smoke, which could talk about the launch of the power plant. As Chinese media noted, it was expected that the ship would be put to sea for the first time before the end of 2017, but these predictions did not materialize. In December last year, the Ministry of Defense of China reported that the aircraft carrier is undergoing mooring tests, reports TASS