Syrian government forces have occupied several dominant heights at the Abu Dukhur airbase, the battles for which have been going on for several days. On the eve of Syria, there were reports of the approach of the CAA assault detachments at a distance of about 8 km from a strategically important military facility. According to the latest data, now Syrian troops are already operating in the immediate vicinity of the air base, trying to get out of there the terrorists of the Dzhebhat al-Nusra group (* banned in the Russian Federation).
From official reports:
The CAA occupied the heights of Tal Abu Ruwail and Tal al Mukbir.
However, literally an hour after the publication of the official reports of the CAA from the area of ​​the military operation, it was reported that the terrorists of "Dzhebhat al-Nusra" * were again able to dislodge the Syrian troops from the Tal-Abu-Ruvail region. At the same time, the Web demonstrates creepy shots of how a terrorist cuts off the head of a captive serviceman of pro-government troops.
The fighting is taking place in the province of Hama, where, as noted, the Syrian army is conducting a military operation against the scattered remnants of ISIS militants (*), preventing them from regrouping and uniting into a more efficient armed unit. This does not hide the fact that the terrorists, despite their fragmentation, are well armed and equipped.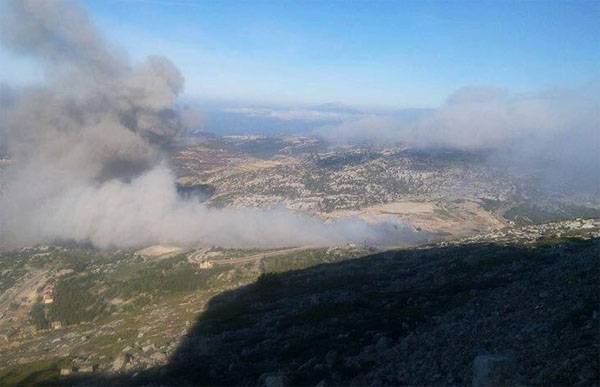 In a military correspondent's twitter account
Ivan Sidorenko
In the meantime, information was posted about the explosion at the CAA ammunition depot in the province of Lattakia near the village of Salanf (Slinfah). In this case, data on the causes of the explosion and the victims yet. Recall that in the province of Latakia is located and the base of the HKS of the Russian Federation "Hamim".