In the Odessa region, radicals attacked Orthodox churches. The events unfolded in the city of Ilyichevsk (post-made version - Chernomorsk), as well as in Odessa itself. Thus, in Illichivsk, the radicals at night looted and desecrated the Holy Protection Church of the Ukrainian Orthodox Church of the Moscow Patriarchate. They broke into the emergency exit door, committing vandalism inside the church.
From the message of the Odessa diocese:
In search of values, the criminals opened all the circles for donations of parishioners. Probably, seeing that there was no amount of money expected by them, they began to destroy everything in the temple and altar because of anger - they broke down the altar doors and, leaving, covered the entire building with powder from fire extinguishers in the temple.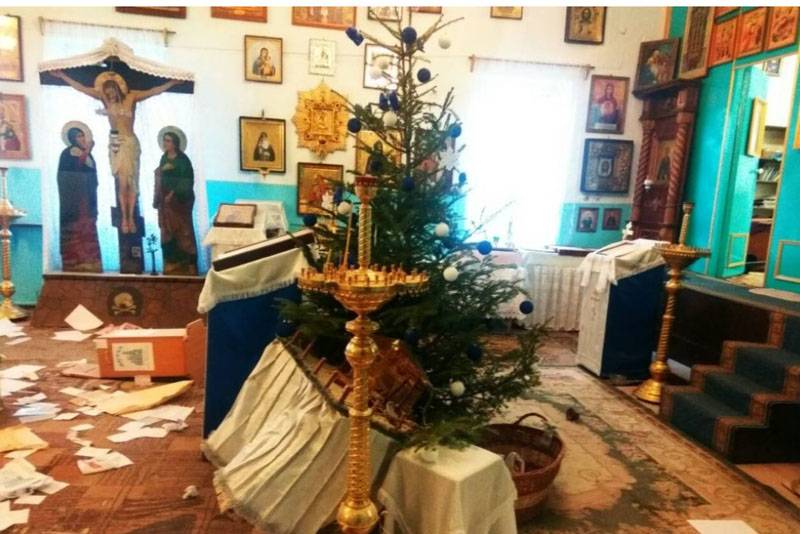 The press service of the diocese reports that in the temples of Odessa thugs plastered walls and doors with extremist leaflets. In one case, the priest, together with the parishioners of the church, managed to drive out the radicals, who openly declared that it was important for them to make a video report on their activities in the churches of the UOC-MP. This once again demonstrates that the thugs centrally receive assignments to carry out provocations against Orthodox churches and believers in Ukraine.
In the Odessa diocese, they note that during 2017 a year, radicals committed 19 attacks on temples. The local police has not yet revealed a single case. And this is with a huge amount of evidence and a considerable number of witnesses.