The large landing ship Yamal on December 30 collided with the bulk carrier Orka-2 from Sierra Leone in the Aegean Sea, the incident occurred due to the fault of a civilian vessel, the press service of the Black Sea reported
fleet
.
December 30 around 7 hours of the morning in the Aegean Sea during the passage of the Karpathos Strait (9-10 miles south of Rhodes) the cargo ship "Ork 2" under the flag of Sierra Leone, made the transition from Egypt to Turkey, collided with a large landing ship of the Black Sea Fleet Yamal, en route to Sevastopol from the Mediterranean Sea
- said the head of the department of information support of the Black Sea Fleet Vyacheslav Trukhachev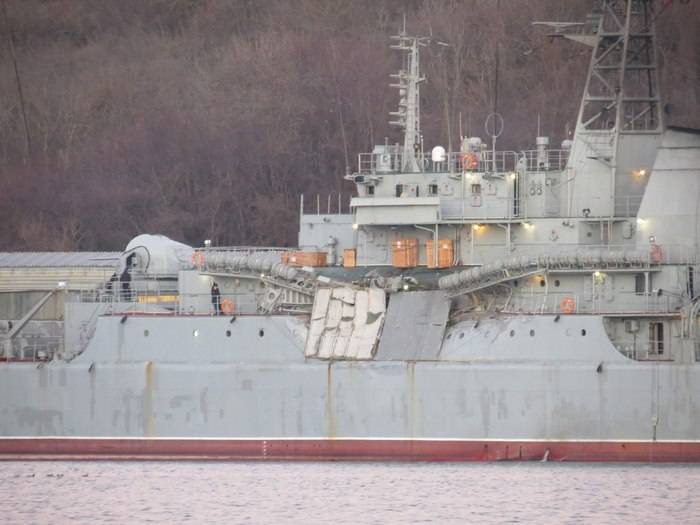 He stressed that as a result of the collision no one was hurt, while the ships remained on the move and continued to move to their destinations.
The incident arose due to the fault of the Ork-2 cargo ship, which, in violation of the International Regulations for Preventing Collisions at Sea (MPPSS-72), following a parallel course and overtaking a Russian ship on the left side, not convinced that the overtaking was completed, sharply changed course to the right and made a collision
- V.Trukhachev declared.
According to him, the Russian side made a notarized statement of the sea protest, which outlines the circumstances of the incident for subsequent action to recover the damage caused by the perpetrator.
Earlier, some media reported that the large landing ship (BDK) "Yamal" of the Black Sea Fleet (BSF) received uncritical damage during a trip to the Mediterranean Sea, reports "Interfax-AVN"