Adopt a separate motorized rifle brigade of the North
fleet
GAZ-3344-20 Aleut, a two-link caterpillar floating snow and swamp terrain vehicle of high passability, was received. The machines were tested in arctic conditions and were finalized by the supplier enterprise, taking into account the recommendations for operation in this climate zone, the press service of the Northern Fleet.
The GAZ-3344-20 "Aleut" all-terrain vehicle is made according to a modular scheme: the front link is an energy module in which 5 people can be transported, including the driver, the rear link is a transformable passenger module with a 15 capacity that can be easily converted into a sleeping, medical unit or command post, its payload is 2500 kg.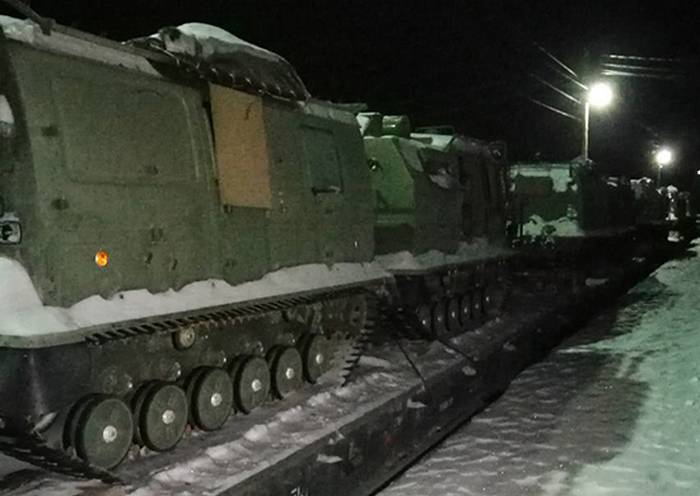 The GAZ-3344-20 Aleut has a well-proven diesel engine manufactured by the Yaroslavl Automobile Plant, an automatic gearbox and simple controls like a truck.
Operating temperature ranges from minus to plus 50 degrees Celsius. GAZ-3344-20 "Aleut" is able to overcome water obstacles, movement afloat is carried out using a tracked propulsion unit. The machine is equipped with engine and fuel preheater, equipped with interior heating system.
The high passability of the GAZ-3344-20 "Aleut" all-terrain vehicle in particularly difficult road and climatic conditions is ensured by low average ground pressure, sufficiently high power density, high ground clearance, using the principle of folding the links without changing the tractive effort and speed.
The system of forced folding of links in the vertical plane expands the capabilities of the all-terrain vehicle while overcoming various obstacles. Angle of climb to 35 degrees.
The snow and swamp vehicles that entered service will soon be run-in at one of the ranges of a separate motorized rifle brigade in the Murmansk region
- added to the press service.