The CAA has progressed significantly in Idlib thanks to the support of the Russian HQs, the militants surrendered two settlements in the province of Hama. Reports about it
FAN
with reference to Syrian sources.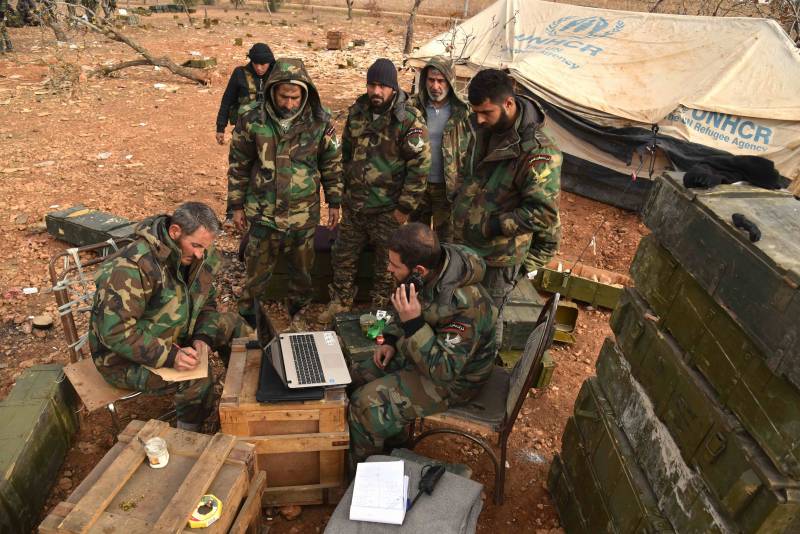 On the eve of the night, the Israeli Air Force conducted an unexpected air attack near the town of Al-Kuteyf in the area of ​​the Eastern Kalamoun Mountains (Damascus Province). Syrian air defense systems destroyed one of the projectiles fired, but the CAA fortifications were still damaged. In the northeast of Damascus, after a short break, violent clashes between the Islamists of the illegal anti-government formations and the Syrian Arab Army (CAA) resumed.
Last day 93 soldier of the Syrian Arab Army completed a training course prepared by the staff of the International Mine Action Center of the Armed Forces of the Russian Federation. Graduates were given metal detectors and related equipment made in Russia.
The Western Coalition Air Force, led by the United States, has resumed bombing in the province of Deir ez-Zor. The strike again hit As-Susa, located southeast of the administrative center of the region. Despite the fact that during the previous sortie
aviation
The United States killed civilians, American aircraft do not stop bombing the province. Military experts are confident that US activity in the area is connected with nothing more than the desire to justify its military presence in Syria.
In the past 24 hours, the government army was rapidly advancing to the north-east of Idlib towards the military airport "Abu Duhur". Russian aviation continued combat sorties in the region, attacking fortifications and firing positions of Islamists in the area of ​​Maaret An-Numan, as well as on the approaches to the Abu Duhur airbase. At first, the SAR servicemen strengthened their positions three kilometers south of the airfield, and later, under the cover of the Russian Aerospace Forces, they continued the offensive, freeing 12 settlements. In the evening, the CAA soldiers began to storm the town of Abu Duhur. Despite attempts to reach a peaceful resolution of the conflict, the militants did not agree to accept the terms of the CAA.
Northeast Hama resumed hostilities of the Syrian army. Government forces freed the town of Al-Shakusia, and then the city of Rahadzhan came under their control. Under the cover of Russian VKS, the settlements were cleaned in a few hours.