After Jordan's long ban on the passage of humanitarian convoys to the Syrian refugee camp of Er-Rukban, official Amman did give the go-ahead to the convoy of the United Nations mission. In the camp, according to Syrian information sources, there was a dire situation associated with an acute shortage of not only medicines and food, but also water.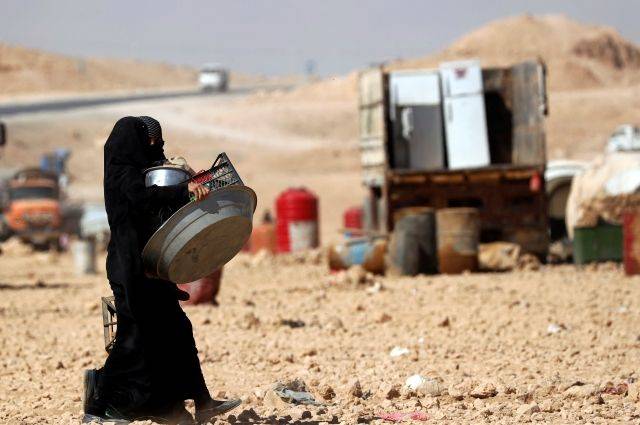 Access for humanitarian missions to Er-Rukban was closed due to the fact that the American military base was located in the immediate vicinity of the refugee camp. According to some reports, it was the Americans who supported the regime of limited access to the territory where thousands of Syrian immigrants were accommodated. For what reasons?
The main reason is that the US clearly has something to hide in Er-Rukban near the border with Jordan. The fact is that Syria has repeatedly received reports of the training of militants near the US military base by instructors from the United States. Also in the refugee camp itself, recruitment into militant units was carried out to further confront the SAR government forces.
It is known that today in the camp there are up to 50 thousands of refugees, with whom Jordan at one time blocked access to its territory.
The representative of the Ministry of Foreign Affairs of Jordan said that Amman will allow for a "one-time supply of humanitarian aid through its territory." This fact (about a "one-time supply of humanitarian aid") suggests that Amman also has an interest in blocking the territory near Er-Rukban. Most likely, the Jordanian interest here directly fits in with the interest of the Americans, otherwise why Amman and Washington do not allow international humanitarian organizations to establish a permanent channel of assistance to the needy population of a refugee camp?
Against this background, the official Damascus suspected Jordan that under the guise of opening a corridor for the supply of humanitarian aid, she could deliver
weapons
for the militants who are on the training ground near Er-Rukban. The Syrian authorities have warned the authorities of a neighboring state against this kind of provocation.