Experts of the Internet portal Facts Box compared the combat capabilities of the American Apache helicopter and the Russian Ka-52 Alligator. In their opinion, these combat vehicles are the most advanced assault helicopters in the world. American analysts evaluated the helicopters in five ways.
After analyzing the AN-64 and Ka-52, the experts concluded that the Russian "Alligator" is superior to the "Apache" in terms of survival and armament. The specialists noted that the Ka-52 is the world's first combat helicopter that has a bailout rescue system, while steel plates are installed in the cockpit to protect 20-mm projectiles from direct hits. In the American helicopter to protect the pilots used ceramic plates.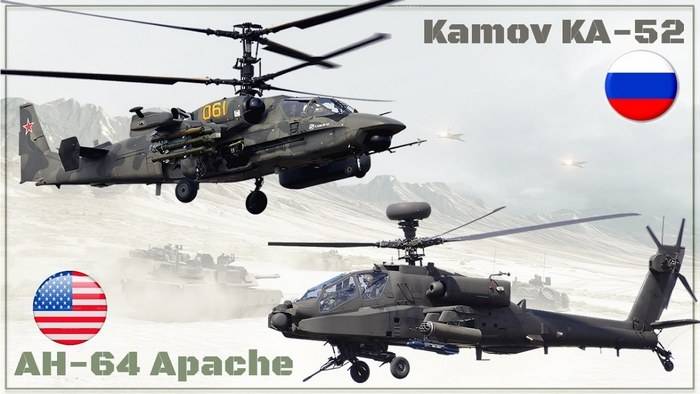 The Alligator's arsenal includes 2A42 X-mmX millimeter cannon rifles, aerial bombs, Sturm-VU and Whirlwind guided anti-tank missiles penetrating any armor along with active defense. It can take on board the air-to-air missiles of the Igla-B melee, as well as unmanaged air-to-surface missiles. Equipped with a radar station "Crossbow".
The built-in armament of the AN-64A Apache helicopters consists of a single-barrel 30-mm M230 gun mounted in a turret in the lower part of the fuselage under the operator-gunner's seat. To combat
tanks
the helicopter is armed with a Hellfire ATGM with a semi-active laser homing head. If necessary, instead of an ATGM, on each of the suspension nodes, one launcher can also be placed, each of which contains 19 unguided
aviation
rockets with a caliber of 70 mm.
The Apache surpasses the Russian helicopter in range by approximately 150 kilometers. But thanks to the coaxial design of the screws, the Alligator can fly forward with a tail at a speed of 130 kilometers per hour, sideways - 100 km / h, and perform aerobatics that are inaccessible to other helicopters, reports "RG-Force"