Newspaper "Kommersant"
сообщает
that this month will be the delivery of Russian liquefied natural gas to the United States. This
news
It draws special attention, given the fact that the United States itself is an LNG exporter, promoting the sale of its gas in Europe.
This time the situation was reduced to the fact that American companies decided to purchase a batch of Russian liquefied gas in connection with the increase in fuel prices due to bad weather on the east coast of North America.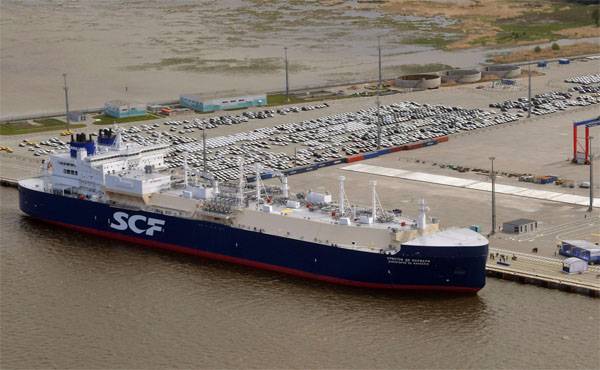 Russian LNG in transit through Britain will be delivered to the States of the French Engie Company. The final destination will be Boston, which has experienced a snowstorm and a drop in temperature. Now the city and the state of Massachusetts are facing large-scale flooding, which has already begun in certain areas. Just a few days ago in the United States an absolute record was recorded for the cost of 1 thousand cubic meters of gas. She made 6,3 thousands of dollars! Recall that in Europe, Russia natural (pipe) gas sells for approximately 180 dollars for 1 thousand cubic meters.
The gas to be delivered to the USA is produced by the Russian company NOVATEK. Production is carried out according to the Yamal LNG project.
Gas is currently pumped into the Gaselys tanker after the "unloading" of the tanker Christophe de Margerie, which first delivered LNG from Yamal. Loaded tanker Gaselys will go to Boston.