A graduation ceremony was held at the International Mine Action Center. The Russian military has prepared another 93 specialist from among the Syrian military, reports
RIA News
.
A training program specially developed by the Russian military allows training demining specialists as soon as possible.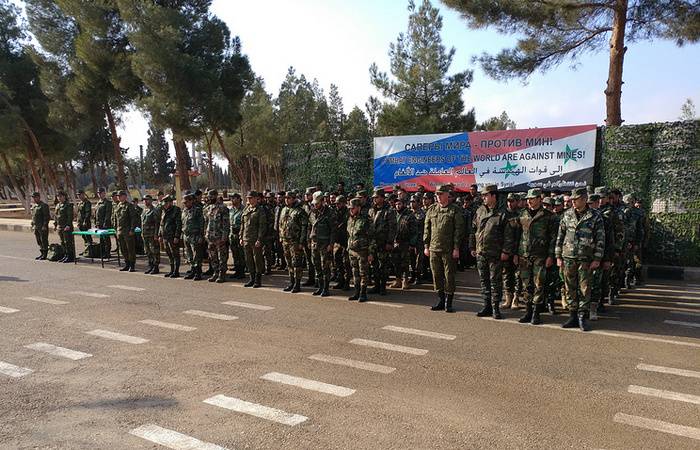 Here, within the walls of the center, they (the Syrian soldiers) within a month passed a program to clear the area from explosive objects. We conducted for them practical and theoretical studies on the search for and detection of explosive objects, and also on the destruction of ammunition. They will use this knowledge in the future.
- told the head of the branch of the International Mine Action Center Guards Lieutenant Colonel Mikhail Bagrov.
After the liberation of Syria from Islamic State militants * (IG *), the return of refugees became one of the main problems: they cannot return to their homes, since many areas are mined, and there are not enough sappers in the Syrian army.
The main purpose of opening the center was the need to train a large number of specialists to clear the liberated territory from mines and explosives that terrorists flooded houses and streets. We express our deep gratitude to the Russian army for assistance in the demining of our territory and the preparation of Syrian sappers. This will help civilians quickly return to their homes.
- said the head of the engineering troops of the Syrian Arab Army, Lieutenant-General Abdul Karim Aderi.
A branch of the International Mine Action Center of the Armed Forces of Russia opened 2017 in April in the province of Homs. Another branch operates in Aleppo. Russian specialists prepared almost 900 sappers for the Syrian army, introducing new training methods for the Syrian climate and soil. All graduates of courses receive mine detectors and equipment made in Russia.
Islamic state * (IG *) is a terrorist organization banned in Russia