The Italian shipbuilding company Cantiere Navale Vittoria has begun to implement the contract for the construction for the Italian Navy of four landing craft of the new project LC23, intended for the Italian universal landing craft under construction (UDC), reports
bmpd
.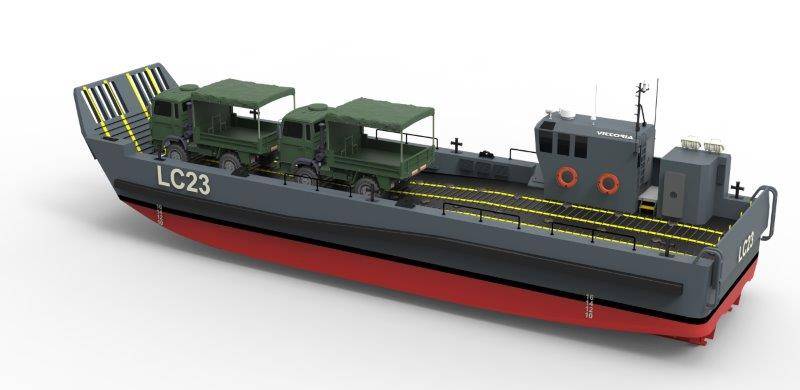 The head boat is currently under construction, which is due to be commissioned by the end of this year. All four units must be delivered by 2021.
It is reported that the UDC under construction (the alleged name Trieste or Thaon di Revel) should be part of
fleet
in the year 2022. He will be able to carry four LC55 project boats or one LCAC-type hovercraft in a docking chamber measuring 15 by 23 meters.
"The LC23 project was developed by Cantiere Navale Vittoria itself and is a landing craft of the traditional" fly-away "architecture, but with the possibility of passing equipment through and unloading it from the bow or stern. Steel body. The small aluminum superstructure, which has a reservation, is shifted to the starboard side, "the material says.
The boat has a full displacement of 110 tons and a maximum payload of 70 tons. Its length is 23,3 m and width is 6,6 m. The power plant consists of two MAN D2862 LE 453 diesel engines with 1213 KW power with ZF3055 gearboxes. The maximum speed of the empty boat is the 22 node, with a load of 30 t — 16 knots, fully loaded — 13,5 knots. Sailing distance (fully loaded) - 200 miles. Crew four people.
According to the information, "the boat is capable of receiving one main Ariete tank, or one Centauro or Freccia armored vehicle, or two floating AAV armored personnel carriers, or two 155-mm self-propelled howitzers М109А2, or five light armored LMV Lince vehicles." Instead of technology, transportation to 300 people is possible.