In the Khrunichev Center pursuant to the instructions of the President and the Government of the Russian Federation, they began to develop a reusable stage for the Angara-1.2 light-class rocket, according to
News
.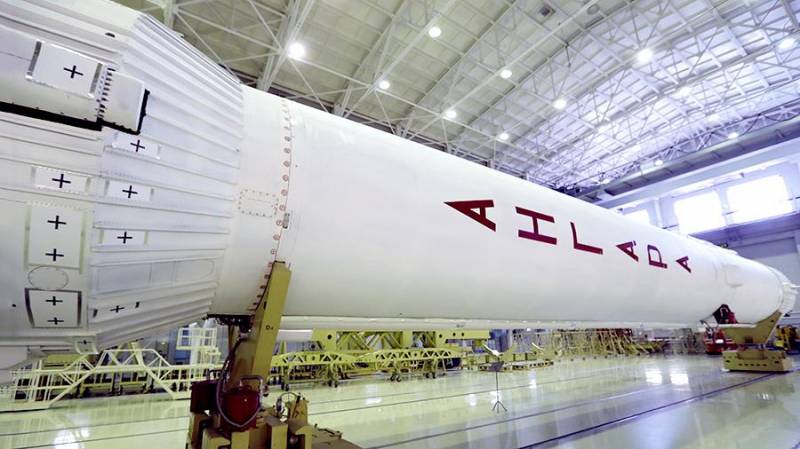 Experimental design work is being carried out on this subject. We carry it out with Roskosmos and Myasishchev OKB,
The General Director of the Khrunichev Center Alexey Varachko told the newspaper.
According to the newspaper, the main option considered to turn the Angara into a reusable one is the equipment of the light version of the carrier with folding wings. After launch and removal of cargo into orbit, the rocket will be able to open its wings and, like an airplane, make a soft landing at the airfield.
At the same time, other options for returning the first stage are also being studied: with the help of our own engines, like the American Falcon 9 rocket or landing with a parachute.
It is noted that the first results can be announced in the spring of 2018. By this time, the technical shape of the reusable "Hangars" will be selected.
"In 2011 – 2013, the Khrunichev Center worked on a draft design of a cruise missile unit for Angara as part of the Reusable Space Rocket System (MRKS). At the end of 2013, the Roscosmos Scientific and Technical Council reviewed the preliminary research results and confirmed the possibility of creating a reusable complex. But this project did not become successful: the cost of removing a kilogram of cargo using the MRX turned out to be higher than during a one-time flight, "the material says.
In both cases, it was about creating a winged stage for the heavy version of the "Angara". The new development involves the addition of wings to the light version of the rocket.
The launch market for small spacecraft is promising, a similar rocket can be used on it. But everything should be carefully calculated. For such a rocket, an aerodrome, ground infrastructure maintenance and post-flight operations are necessary. Will require large expenditures for research and development work. Will the economic effect pay off all these investments due to reusability? Careful economic assessments are needed,
Ivan Moiseyev, scientific director of the Space Policy Institute, told the publication.
The Energia rocket and space corporation is developing its own version of a reusable carrier. In parallel with the design of the new medium-class missile, the Soyuz-5, the corporation is exploring the possibility of creating a modification of this carrier with a return stage.