In May 2019, the Japanese government intends to invite Vladimir Putin and expects to achieve progress in negotiations on the so-called territorial dispute over the Kuril Islands.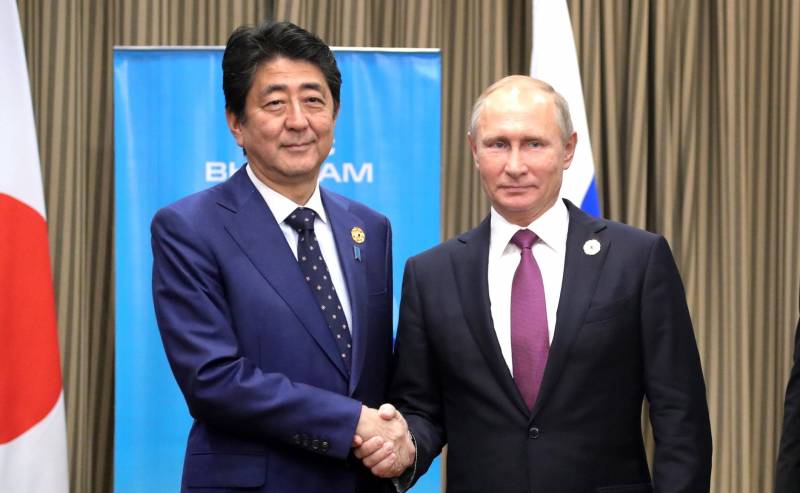 This writes the edition of "Japan Times" with links to government sources. The Japanese side expects to achieve progress in resolving the territorial dispute
"InoTV"
.
The article notes that Vladimir Putin visited Japan for the last time in December 2016. That trip was viewed as a likely turning point in the island dispute. However, no significant changes to this day.
Vladimir Putin is expected to visit Japan one way or another to attend the G-20 summit next year.
The Japanese publication, which reported on government plans, believes that Tokyo has no doubt who will win the Russian presidential election in March 2018.
In connection with Putin's alleged re-election, a government source made a curious assumption: the territorial issue should be resolved at that time, "as long as Putin, who enjoys stable support at home, continues to be in power."
In addition, Prime Minister Shinzo Abe is counting on the start of joint projects between Japan and Russia. However, there is still the question of whether economic cooperation between the two states will contribute to the resolution of the island dispute.
Also, the Japanese publication notes that Mr. Abe will apparently invite V. Putin to Japan during his planned visit to the Russian Federation.
The so-called territorial dispute over the Kuriles, we add, stretches for decades and is a stumbling block for the economic rapprochement of the two states - Japan and Russia, between which a peace treaty has not yet been signed.
The material of the Japanese edition, which, referring to the information of government officials, "postponed" the negotiations, and at the same time the "progress" on them for the spring of 2019, says that no change of the situation is foreseen in the current year. Islands will remain Russian.
As for "progress" in general, the Japanese press should be trusted with great caution. More than once, materials appeared in the Japanese media, accompanied by statements by high-ranking sources about the "progress" on the issue of the "northern territories". Now the press and the government admit in chorus: there is no "progress".
Observed and commented on Oleg Chuvakin
- especially for topwar.ru