Bulgarian politician Ivan Kostov, who holds the post of head of the Center for Analysis and Risk Management, spoke about the implementation of the project to build a nuclear power plant in Belen. Before presenting Mr. Kostov's judgments, it should be noted that he previously (1997-2001) served as head of the Bulgarian government.
According to Kostov, who, along with the head of the center, has long and firmly become addicted to Euro-Atlantic grants, investments in the construction of Belene NPP can "return the Bulgarian economy tens of years ago."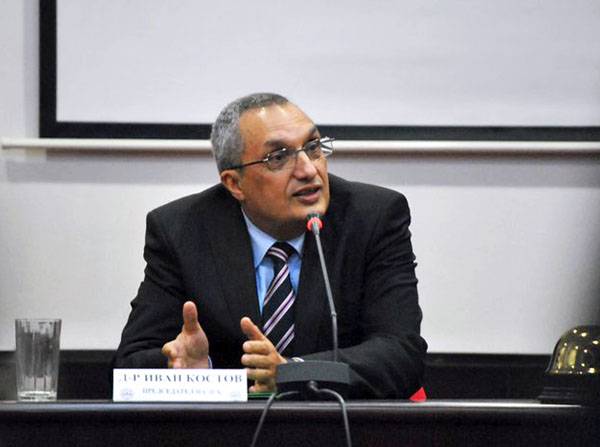 Kostov quoted by the portal
"Russian Bulgaria"
, said that the project must again "notify before the European Commission, since it is impossible to use the notification held in 2006 year."
Kostov:
There are geopolitical risks associated with dependence on a single fuel supplier and provision of services.
Recall that at the moment about 1,8 billion dollars have been invested in the project.
When in Bulgaria they heard about Kostov's statement about the "rollback of the Bulgarian economy a decade ago", many people shrugged their shoulders. There is reason for bewilderment.
In the 70-80 of the last century, the Bulgarian economy grew at an impressive pace. Thus, during the 6 of the Bulgarian Five-Year Plan after the commissioning of the Kozloduy NPP, the republic's GDP grew at an average of 8% per year. By 1989, 60% of Bulgaria's GDP was industry.
While working in the cabinet of Mr. Kostov, Bulgaria's GDP declined to 56% of the year's 1989 level. According to official statistics only, the percentage of the population living below the poverty line in 2000 was 72%. Kostov's government sold out most of the country's strategic assets at ridiculous prices, declaring this to be the achievement of a market economy.
Bulgarian industry has fallen to a minimum over 50 years. The current level of poverty in an EU country is officially 24%. Trade balance - "minus" 3,5 billion dollars. About 15% of GDP, Bulgaria spends on servicing EU loans.
So if the Bulgarian economy as a result of the construction of Belene NPP "returns a few decades ago" (for example, to the level of 1988-1989), then the majority of Bulgarian citizens will hardly be opposed ...