Information Agency
Interfax
reports that soon it is planned to begin state tests of the MiG-35 multirole fighter. From a message from Interfax's interlocutor
aviation
industry:
Factory flight tests of the MiG-35 ended in December 2017. The fighter is preparing to enter the joint state test at the start of 2018. Their (state testing) is scheduled for completion in 2019 year.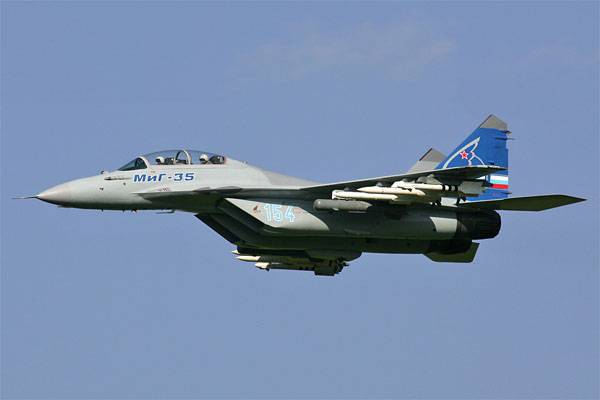 The details of the factory testing of official data currently have not been reported.
Earlier, a lot of noise was made by the statement of Viktor Bondarev, who was at that time in the position of commander-in-chief of the Russian Aerospace Force. General Bondarev spoke about the "possibility of arming the MiG-35 fighter with laser
weapons
". Experts noted that we are not talking about a lethal laser weapon as such, but about systems that allow using a laser technology to implement targeting fighter missiles at a target.
It is known that the MiG-35 is equipped with an advanced defensive complex, which minimizes the possibility of a surprise attack from the enemy. The complex has the functionality to recognize both aircraft and missiles.
The aircraft developers note that the MiG-35 is armed with long-range weapons, allowing attacks on targets without entering the enemy's air defense zone. A multipurpose light fighter is capable of performing combat missions not only against air and ground targets, but also against enemy ships.