205 years ago - January 6 1813 of the year (December 1812 Art. Art.) Back Russian Emperor Alexander I issued the Supreme manifesto on the end of World War II. On the same day, the autocrat ordered to start in Moscow the construction of the Cathedral of Christ the Savior in honor of the victory of the Russian people over the Napoleonic invaders.
The outcome of the Patriotic War 1812 of the year - the almost complete destruction of the army of Napoleon Bonaparte, which included armed forces of Italy, Switzerland, the Rhine Union, the Duchy of Warsaw, the kingdom of Prussia, the Austrian Empire.
The so-called Great Army (Napoleon's army) suffered unbelievable losses for those times: more than 550 thousands of dead, wounded, and prisoners. This is despite the fact that by the time the war began against Russia, the Napoleonic armada had a population of about 600 thousand people. Napoleon's desire for world domination was undermined by Russian resistance, which resulted in the subsequent entry of the Russian army in Paris.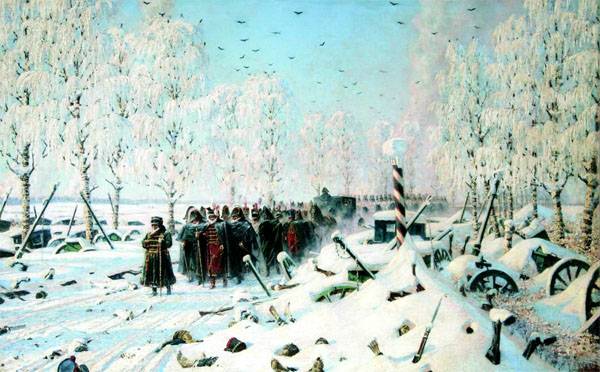 Painting of the artist V.Vereshchagin "ON A LARGE ROAD - DEPRECIATION, ESCAPE"
The 1812 war of the year left a heavy economic and demographic legacy of Russia itself. 12 provinces were virtually completely ravaged by the French, dozens of Russian cities were burned, including Moscow for obvious reasons. The military losses of the Russian army amounted to about 280 thousand people killed and wounded. Until now, historians can not provide more or less accurate data on the victims of French aggression among the civilian population of Russia.
Returning to the publication of the Great Manifesto, it should be noted that the Russian Emperor Alexander I ordered to celebrate the day of victory over the army of Napoleon on the day of Christmas. Over time, this tradition has been lost.