In LDNR they report about the next facts of shelling of the territory of the people's republics from the position of the Ukrainian troops. Also announced a significant intensification of the intelligence of the Armed Forces of Ukraine in the south.
Donetsk News Agency
cites the statement of Edward Basurin:
In the area of ​​Mariupol, in the area of ​​responsibility of 59, a separate motorized infantry brigade, the enemy strengthened aerial reconnaissance using UAVs and reconnaissance groups.
It was noted that the 28 th omb of the APU deployed in the southern sector of the front is being reinforced by the forces of the 93 th separate mechanized brigade.
Earlier in the American edition
The Wall Street Journal
There was a material in which reflections on the danger of the transfer of anti-tank missile systems of the Ukrainian army directly are presented. The article speaks about Javelin ATGM, which can be sold by a small party to Kiev.
At the same time, the authors of the material openly talk about what to transmit such
weapon
directly to the Ukrainian army "without instructional accompaniment" - it's like transferring Javelin ATGMs to LDNR formations at once (in the version of the American media, "to the Russian military").
It is noted that in the Ukrainian army there have already been repeated cases of the loss of weapons, as well as their sales to the opposite side. Pentagon officials themselves say that if such a weapon turns out to be in Ukraine, they will be equipped with units located in the rear.
WSJ:
It is reported that "Javelins" will be stored in the warehouses of training bases in the west of Ukraine. It is necessary to ensure timely access of US military instructors to these warehouses in order to be able to guarantee the verification of the security of anti-tank missile systems. They will check and keep their records.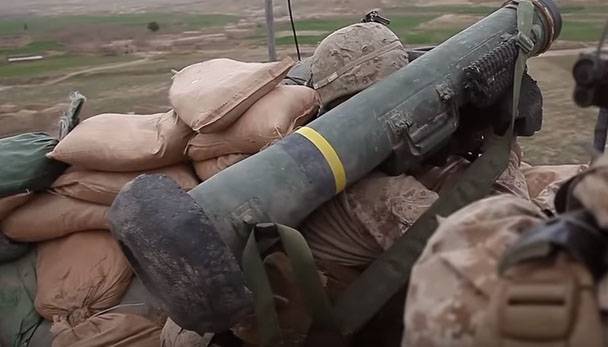 Recall that earlier the American companies sold Ukraine a batch of modifications of anti-tank grenade launchers, as well as large-caliber sniper rifles.
The LDNR notes that the Americans are bluffing, stating their concern about the possibility of the Javelins falling into the hands of Republican armies. According to representatives of the command of these armies, Washington is taking steps aimed at "general legitimization" of the presence of US troops throughout Ukraine.