The Brazilian Navy is still replenished with a British helicopter carrier. As the British resource "UK Defense Journal" reported, citing a source in the Brazilian Ministry of Defense, the Brazilian and British sides reached a final agreement on the acquisition by Brazil of an amphibious helicopter carrier L 12 Ocean from the Royal Navy. The contract value will be 312 million Brazilian Reais (about 84,3 million pounds).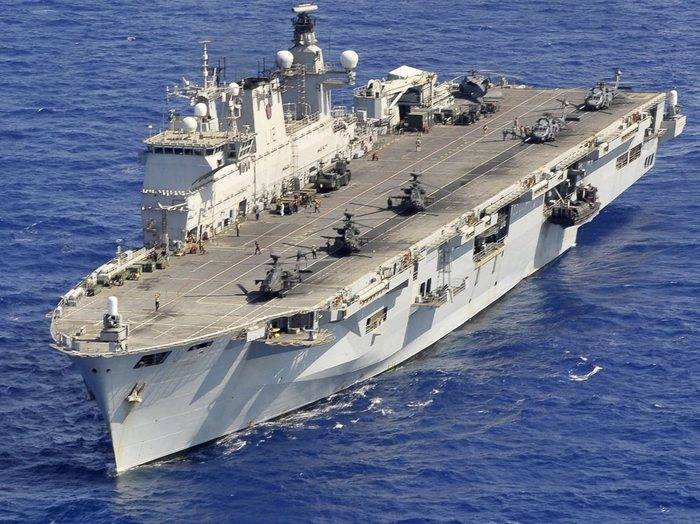 Ocean should be removed from the British
fleet
in March 2018. It is expected that the ship already under the Brazilian flag will leave the UK no earlier than October or November 2018. In the coming weeks, the first group of four Brazilian officers should go to the UK to prepare for the acceptance of the ship. The arrival of the first part of the Brazilian crew proper to Britain is expected in early April.
Ocean was introduced to the Royal Navy in 1998, and since 2014 has been the only aircraft carrier of the British Navy, and since June 2015 has been the flagship of the fleet. The 2012-2014 has undergone an average overhaul and upgrade with a total cost of 65 million pounds, so now it is in good technical condition.
In the Brazilian Navy, Ocean will also become the only aircraft carrier in connection with the decision to cease operation of the last Brazilian aircraft carrier A 12 São Paulo (formerly French Foch). According to Brazilian sources, it is most likely that in the Brazilian fleet the helicopter carrier will be called Minas Gerais (previously the name was worn by the first Brazilian aircraft carrier - the former British Vengeance of the Colossus type, acquired in 1956 and retired in 2001), reports BMPD