German Foreign Minister Sigmar Gabriel made a visit to Kiev, where he made a "pro-Ukrainian" statement about the need to introduce an armed "strong peacekeeping mission" to the entire territory of Donbass, calling the situation very dangerous. As for the decision to supply the US lethal
weapons
In the conflict zone, official Berlin expressed only doubt about their expediency. Considering that Sigmar Gabriel had previously held quite adequate joint press conferences with Russian Foreign Minister Sergei Lavrov, this is a clear bias of Berlin's policy towards Washington, and a departure from the Minsk agreements, as indicated by Russian political analysts.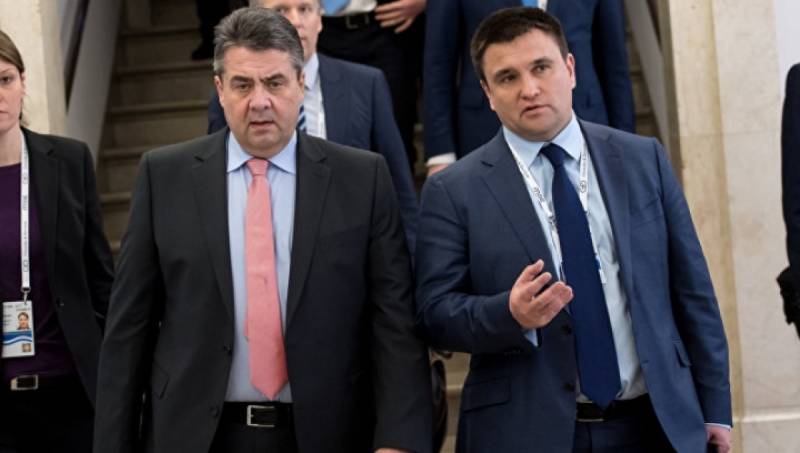 Here you can say, of course, that Sigmar is a "lame duck" from the old government of Angela Merkel, that Merkel cannot form the German government after the last election, that this pause was prolonged scandalously. However, this pro-American statement by Sigmar says that the German government crisis itself is a consequence of the struggle to choose a political course in the face of growing pressure from Washington on Europe, already supported by sanctions against European companies for relations with Russian counterparties, primarily for construction "Nord Stream - 2".
Germany wants to get cheap Russian pipe gas, and show Atlantic solidarity to Washington. The settlement of Sigmar and the German circles behind them is simple: if Russia agrees to bring peacekeepers to Donbass on American terms, followed by its capture by Bandera, then there is a chance to continue the construction of the joint venture 2 and, in general, to maintain current economic relations with Russia.
What Sigmar Gabriel and the company are counting on is not clear: Vladimir Putin has already said that Russia will not allow a repetition of the Srebrenica massacre in the Donbas. For Russia, this is unacceptable. The hopes on the "strong" peacekeeping mission of Zigmar and other Western politicians are meant to relieve this concern of Russia, but after they have given Kiev the fulfillment of the Minsk agreements, Moscow will give that answer to their own arbitrariness. Strategically, it is ridiculous to think that Washington will be satisfied with the concession of Russia in the Donbass, he will consider this a manifestation of weakness and continue his policy of stirring up conflicts on the borders of Russia itself.
For Europe, and especially Germany, in Donbass there comes a moment of truth in their relations with the United States. Recall that President Trump calls Germany a "bad country," and this is not only his personal opinion: his adviser and Nobel laureate in economics Stiglitz and part of the American economic elite also believe him. Germany has become a serious economic competitor of the United States, the trade balance between the countries has long been not in favor of the United States. Deliveries of liquefied gas from America to Germany, instead of Gazprom's pipe, could smooth out the current trade imbalance between countries.
In Germany, they understand what Trump Washington wants, and Angela Merkel makes a sensational statement that from now on Europe should rely only on her own strength. The leader of the SPD, Martin Schulz, although a formal political opponent of Merkel, says that the United States of Europe needs to be built, Merkel's protege in the European Commission, Jean-Claude Juncker, has long spoken about the need to create a European army, and today we see the first steps to create it, slightly disguised. What does Russian gas have to do with it, and Nord Stream - 2, in particular?
The open secret is that the competitiveness of the German economy rests on relatively cheap Russian pipe gas coming under significant long-term contracts. Therefore, it is cheaper than gas supplied to Poland and to other countries in relatively small volumes, this is a common economic practice.
Replacing Russian gas with American liquefied gas, which is about 30% more expensive, makes Germany, and Europe as a whole, not competitive. In the future, the European economy will face the fate of the Ukrainian economy, which has already been bent without Russian gas. Germany is fighting not only for the joint venture 2, but for the competitiveness of its economy, and the United States wants to bend the German economy under itself, so they need to break Europe's energy relations with Russia and impose their liquefied gas on Europe.
Russia, selling its energy resources, buys technologies in Germany and Europe of a general nature, without dual use, however, it can buy such technologies in Asia, for example, in China. It is quite possible to find Chinese and other analogues for high-speed railway trains, for Siemens turbines, Russia needs only to arrange energy supplies to Asia, which it is doing now. But whether Germany can find a similar Russian market for its turbines and trains is a big question.
Germany has to choose between its purse with the remnants of sovereignty and Atlantic discipline, most likely, this is the reason for the post-electoral "uncertainty of Merkel", which in no way can form the new German government. In the German elites there is a struggle over relations with Russia and the United States. Washington calls it the "subversive activity of Russia", as if "the abduction of Europe by Russia" from the American sphere of influence, but, we note, by mutual consent of the parties.