Pranker "Vovan" and "Lexus" (Vladimir Kuznetsov and Alexey Stolyarov) "caught" on their hook the Gauleiter of Ukraine Petro Poroshenko right on New Year's Eve. They called him on behalf of NATO Secretary General Jens Stoltenberg, which caused genuine joy and an enthusiastic exclamation from the "chocolate baron": "Wow!" The "baron" too descends, however, so happy is the slave if his owner decides to congratulate him. Peter Alekseevich crumbled in compliments and congratulations, but here ...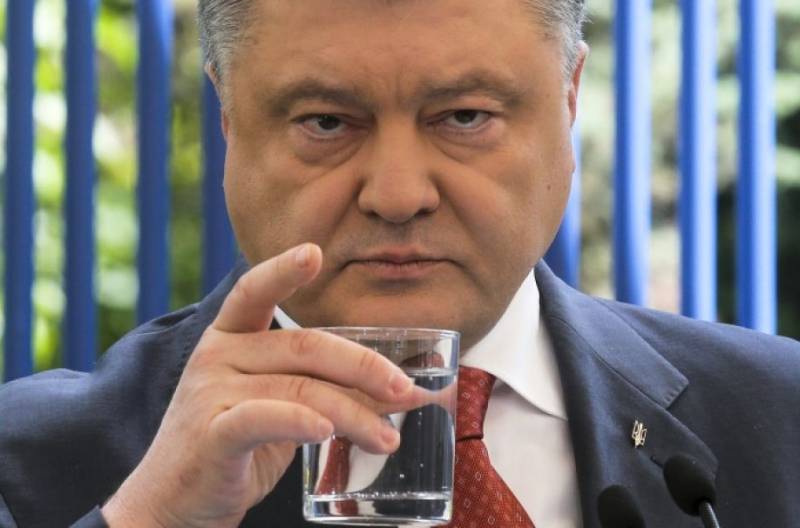 Here Poroshenko heard an uncomfortable and, apparently, painful for him wish: "H
I hope you will not drink a lot of vodka and gorilka this new year's eve!
"I did not find the right words and hung up the phone with annoyance. And in vain. Suddenly, one day, after listening to the speech of the Ukrainian president, not only prankers, but the real secretary general of NATO or someone else from Western politicians would ask him a similar question? He downright begs.
Poroshenko's New Year's speech to the Ukrainian people, published on his website, suggested precisely such thoughts — she was bravura, cocky, boastful. The appeal was preceded by a "victorious" video sequence with the main "peremogs" of Ukraine in the past year, including: the opening of "Eurovision Song Contest", the embroidery march, numerous handshakes with Western politicians, the procession of the philaretists, etc., well, and, of course, bezviz with Europe.
Oh yes, and the fact that NATO troops first marched through Kreshchatik. This "great achievement" of a young and, most importantly, "independent" democracy, was also incorporated into the video. At the same time Poroshenko said that the main resources are "
optimism, faith in one's own country, in one's own strength
". Apparently
without the NATO boot, these "forces" are not enough for optimism.
«
And all will be well. For this, as Vladyka Lubomir Guzar taught, we should pray as if everything depends on God, but work as if everything depends on us
"- said the head ukrohunty. Yeah. With such achievements of "Square" it remains only to pray.
As the great Russian poet Sergey Yesenin once wrote in the poem "Kachalov's Dog": "
And without asking anyone a drop / like a drunken friend, you climb to kiss
". Okay, let's leave the dog alone - still a symbol of the coming year. But "
drunk friend "who climbs kissing without asking, suddenly suddenly appeared
the inhabitants of the Crimea and the Donbass. Who is he Yes, all the same Peter Alekseevich.
After all the horrors of the punitive operation under the guise of "ATO", after the barbaric shelling of Donetsk, Lugansk and other cities, after the killing of thousands of civilians, the destruction of houses, museums, kindergartens, hospitals, Poroshenko suddenly turned to war-weary people who, only thanks to Russia's firm position, avoided the fate of the residents of Donbass): "
My sincere wishes let the Crimea and Sevastopol, Donetsk and Lugansk hear. Brothers and sisters! Your home is Ukraine
».
Well, that is a definite progress. More recently, Poroshenko said that the Ukrainian children would study in schools, and the children of the "separatites" would sit in basements. And now - "brothers and sisters" ... So what are his words are sincere?
Such a "progress" was given a fair assessment by the head of the Commission of the Federation Council of Russia on information policy, Alexey Pushkov. In his Twitter account he stated: "
After several years of shelling and complete blockade, residents of Donbass heard from Poroshenko that "their home is Ukraine". Cynicism seems to have no limits.
».
Indeed, it seems ... Unless to suggest that it was not cynicism, but the consequences of the pre-New Year's "relaxed." Moreover, it could not have done without excessive and inadequate cockiness, peculiar to this state: "
A robber who has outraged our home, we will ever chase and punish
"(" Robber "is Russia, it means!) Ah, strong,
he is knee-deep and Russia is on the shoulder!
But the holidays continue, and Pyotr Alekseevich climbs with uninvited kisses and hugs not only to the residents of Donbass and Crimea, but also to his European friends. In particular, to Bulgaria, which became the chairman of the Council of the European Union. In his blog on Twitter, Poroshenko addressed the Bulgarian leadership: "
I expect progress in our ambitious agenda: in deepening political association and economic integration of Ukraine with the EU, as well as in strengthening EU support in restoring the territorial integrity of Ukraine
". Simply speaking, I asked to be even closer to be friends against Russia, and at the same time to give money.
But "Twitter" was not enough for him - it was also necessary to be noted on Facebook. To be more original, he shared his musical tastes and boasted ... the Ukrainian army, "
one of the most effective in Europe
". In his great achievements, he wrote down the fact that "
The military budget of our country will be a record 86 billion hryvnia
"(And this is the time when this same country seeks to save pennies on retirees).
«
We will get a lethal defensive weapon from our US partners
"- continued Poroshenko. Again, "climbed to kiss." However, there is no unambiguous position on the issue in the USA itself. There, they first declare that they will deliver lethal weapons to Kiev, then they are followed by denials and allegations that we are talking only about defensive weapons.
The controversial position of the United States is a separate issue, just as whether they will actually deliver lethal weapons to Ukraine or not (and, perhaps, behind the scenes have long been delivered). One thing is clear: judging by the latest events, Mr. Poroshenko is not at all the favorite of Washington. On the contrary, Washington keeps it "on a short leash." From the United States, it has long been made clear that a replacement for Peter Alekseevich may suddenly be found. It would not have come then his turn to chew his tie on television, and at the same time with longing to remember the good wishes of the prankers, voiced on New Year's Eve.