Oh, I read a lot about "The Last Bogatyr".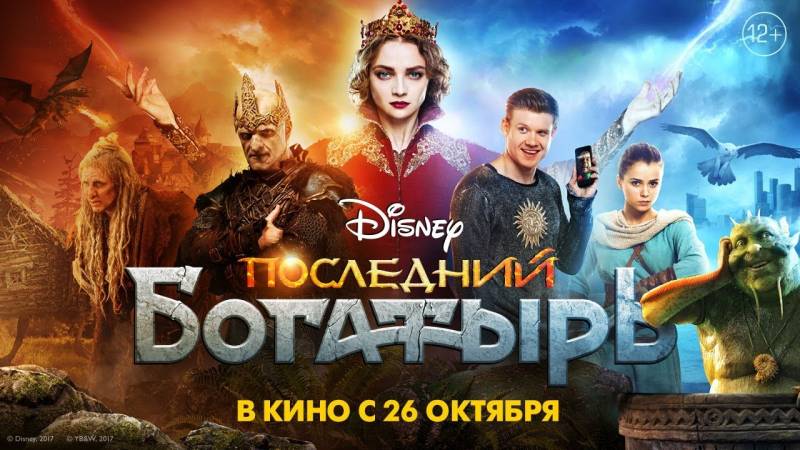 The film is excellent, do not interfere, stupid obscurantists, enjoy a fun and entertaining. Because in epics there was everything, you need to know the original sources - well, and all that.
The only problem is that I am a philologist, not a rocketman. We had the best folklore teacher. Veteran, by the way, Insured. Scout.
Want to "scientifically"? Good.
Bylina is a heroic epic. Byl (etymology of the word you understand?) Song. In the epic there is pathos, almost no irony with humor. Ilya, Dobrynya and Alyosha are characters of the epos. In our epic heroes rarely solve personal problems. They are always defenders: the land of Russian, Russian, holy Russia. From monsters (snake collectors), from robbers, from foreigners. In many cases, heroes of epics have real prototypes of varying degrees of reliability.
Tale (fairy tale) - fiction. "Fairy tale is a lie." In a fairy tale character solves personal problems. Most often - looking for and finds his aunt. Humor is not only permissible, it is desirable. (Here we must understand that humor is changeable - the humor of our ancestors is unlikely to cause a special smile). The heroes of fairy tales have no real prototypes, no one is looking for them.
Water, goblin, Baba Yaga, Koschey, the frog princess, etc. - characters of a fairy tale. Specific warriors - the characters of the heroic epic. Different genres. Of course, there are some intersections (kladenets sword, Serpent Gorynych, for example, are found in fairy tales and epics). Intersections, but only.
At the same time, these genres as genres of oral folk art have long been dead.
However, there is a dry residue. From epics - not literature, but a picture by Vasnetsov. It is the frozen foundation of the Russian political nation. And nobody dared to touch this foundation later, including the Bolsheviks. The play of Demyan Poor "Warriors" (1936) caused a terrible scandal. With editorials in newspapers and all that. The proletarian author was so given a hat so that he would not forget that little did not seem. Do not touch in the pre-war time what is neither ear nor snout.
Therefore, it's not about the epic words themselves, but about what remains of them in the collective unconscious.
(By the way, if we are talking about epics, that is, epic, in which the son of Ilya Muromets actually appears. Muromets eventually kills his son and does not pour tears over him - such are the cases).
The film "The Last Hero" - a typical fairy tale. With all its attributes. The main character finds himself and finds love. Point. But not a classic fairy tale, of course, the author.
So you could do without the heroes of the epic? Yes, easily. Nothing would suffer. No plot, no images, no charges - nothing at all.
Why then in this film specific heroes? And hell knows. Just because. To "bulo". The viewer must be surprised. And how to surprise without much creative costs. But: "Everyone thinks that Dobrynya is a positive hero, and he, a gygygy, is a bastard." Bingo.
Please note that the population in the magical country Belogorie is absent as a class. It is not in principle. There is a scoundrel Dobrynya, there is his bitch-wife, there is his squad (cowards, sadists, thieves and scum all), but there are no ordinary people. Even the little extras. There are no peasants, no merchants, no blacksmiths, - no one. Who are the heroes defended there? There are no Russians, no holy Russia, nothing of this. There are no people. Where does Alyosha Popovich come from, if there are no churches or priests? Landscapes of the film are taken directly from "The Lord of the Rings." This is not typical Russian landscapes. The mountains. Known business, the picture is better. But even then the rest would be taken. "The Lord" is inhabited by people, residents, women, children - as thickly as possible. It is clear who and why protect the heroes. The fairy-tale world of the "Last Warrior" is an emptiness. There are no nationals. Hence the whole
история
with warriors looks far-fetched.
Why did it happen. Some masons gathered in London for a meeting and with satanic laughter, rubbing their sweaty hands, said: "And let's slander the mythological heroes? Is this the unconditional isohabim?" No, this is nonsense. The filmmakers did not want anything bad. They just wanted to entertain the audience and make money. There is nothing wrong with either. Moreover, the creators succeeded. They have talent, but understanding what they are doing is not. And responsibility is not. Such are the trends in the world.
Moreover, if I knew that this film was exclusively for an adult audience, and it would be uninteresting for children, I would not have written a word at all. To raise another political film doctor out of the blue would be a hunt.
But this is a family movie. And made by all canons. In such films, they focus primarily on the younger part of the audience, on children. And adults are following the residual principle. If the adults on the wall in the cinema did not crawl, did not die from anguish, did not feel that they had accomplished the feat for the sake of their children, that is already good.
Therefore, the film is made correctly. According to the textbooks. Not a masterpiece, not a new word, but a strong middling.
This film will often be shown on TV. On holidays, on holidays. Will remove the sequel, because the first part was successful.
Well, I tell you now as a teacher. The effect of such films and fun games with archetypes is far delayed. But he will manifest.
We have already received a society in which the majority sees nothing wrong with the "scoundrel Dobryna". Spit. Not only ordinary citizens, but the creators themselves do not see any political trends.
This is not a question of censorship or scandal. This is a question of self-preservation instinct. Immunity. And we have from him, it seems, to hell so little.
Scoundrel hero and pagan under the neutral flag of an unknown country in the desire to amuse his own ego. It is symbolic.