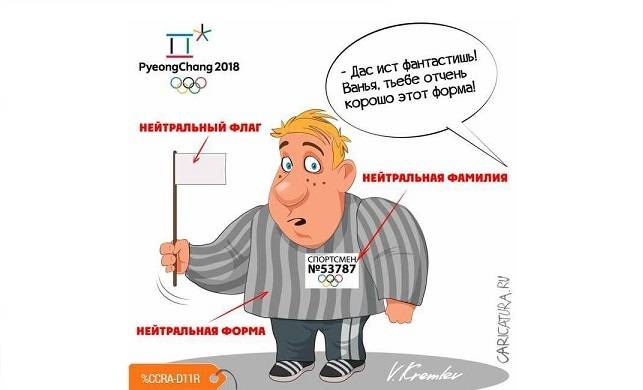 "Olympic athletes from Russia" is dedicated.
- Attention! Attention! - the speaker knocked a pencil on the carafe standing on the table, - Please silence! Comrades, we have gathered today to sort out the personal file of our countryman Vasily Bulkin.
With these words, a young man sitting in the center of the stage in a chair lowered his head.
"But before we start the debate, we will give the floor to our guest, Comrade Tyurina."
A plump, busty woman in a tracksuit walked onto the stage of the village club and stood at the podium.
- Comrades! Vasya Bulkin is a sports nugget, who from early childhood showed amazing athletic abilities: fast running and incredible jumping ability.
- And what, we know, - the watchman grandfather Pakhom released a club of self-planting smoke, - runs from the collective farm garden - get the hell out of here! And jumped over the fence with any move.
The woman went on.
- These of his makings in time were noticed by representatives of the sports movement, who took Vasya under his care. Under my strict guidance, Vasya achieved high results, became the winner of many Olympics and Olympics.
- Yeah, but while he was training, we collectively threw off his uniform on the uniform, his trips to the competitions were paid, the coaches, and he himself was fed - the combiner Mityuhin gave a voice from the place - and he brought us back co-workers.
- These are not cup holders, but cups! - was indignant Tyurin. - They are evidence of his sports victories! And besides, he glorified you, speaking at competitions in a T-shirt with the inscription "Tver region, Zaprudkino village," Zavety Ilyich "agricultural firm, told in his interviews how he loves his native village, respects his countrymen, remember?
"Remember," the meeting boomed.
"But then this" nugget "... - the brigadier of mechanics Bykov roared from his place.
- Comrade! - tried to kill the speaker Tyurin.
- This "nugget" - Bykov with his gulp "extinguished" the op of an entire brigade, that he is one woman? - he took off our t-shirt, in an interview said that he has nothing in common with our village, they say! Citizen of the world, damn it! Forgot, you bastard, what shishi went to his sports camp?
"Oooo, scumbag," the crowd boomed.
- Comrades! - the coach, hardened in sports battles, was not going to give up - such were the conditions of the competition! Understand, Vasya was invited to international competitions! He could not miss such a chance! An athlete has only one life! He went to them you can say all his life !!!
- Why did he say that the collective farmers are all drunks? And what is he ashamed of his countrymen? - shouted standing up from her place milkmaid Agafya.
"Me ... me ... they made me," Bulkin sat on the chair, sobbing, sobbed, "they said that this was necessary ... Otherwise, they would not allow me to compete ...
- So, how to eat our honey, so the muzzle did not burst. And then suddenly became ashamed? - the beekeeper Yegor recklessly spat on the floor, - little you were flogged, bastard.
Tyurina approached Bulkin, who was sitting on a chair, stood behind him and put her hands on his shoulders:
- You do not know, comrades, with what difficulties our Vasya encountered at the competitions. Tell them not to be ashamed.
Vasya began to wipe away the tears.
- They made me ask for forgiveness. Before each contest, kneel down and repent: for the Swedes killed by Poltava, the Germans drowned in Lake Peipsi, the French who were shot near Borodino and the Poles who were killed in the Moscow Kremlin. For the dead Japanese, on which we threw an atomic bomb.
- Not understood? - surprised the agronomist Potekhin, - the Americans threw her off!
- I know. But I repented anyway.
- Speak everything, do not be shy - said Tyurina.
- I was not allowed to live in a hotel with other athletes. They put a cot near the public toilet. They said that my place is near the bucket. And they ordered to walk around the city only in a muzzle.
- And you went ?! - Pakhomych almost choked on his roll.
- I wanted to win a medal. For all of you. She would hang in the Red Corner of our agrofirm. Later I would say to everyone that I love my village very much and you all. I would definitely say that - later, - cried Bulkin.
- So you won a medal? - the milkmaid Vasilisa timidly cast her voice.
Vasya did not answer, he just lowered his head and wept. The coach answered instead.
- Vasya ran the fastest. Jumped above all. But damn burzhuiny deceived him. They said that during training, Vasya took dope - he breathed in the wrong Russian air and took away a medal from him.
- Two. Two medals, - Vasya sobbed.
The crowd gasped.
- We have already filed a protest to the organizers of the competition. We will fight. Next year we will go to the competitions again and will definitely win them. Really, Vasya? - Tyurina leaned over Bulkin and he nodded his head.
- And now I appeal to you with a request to help Vasya. I think we should compensate him for the terrible tortures that he had to endure and at the expense of the agrofirm buy Athlete Bulkin, our sports pride ... Vasya, what do you want?
"A new car," whispered the athlete.
"A Lexus car," the sports mentor finished, "and also allocate a sum for sports training for an athlete Bulkin outside Russia, in France or Germany, so that he breathes the right air. And then I assure you, next year we will definitely take the first place and bring a gold medal. Who is in favor of this offer, please vote, - finished Tyurin and raised her hand.
Silence hung in the hall.
- And the fig we need this medal? Maybe we would rather build a cinema in the village with this money? - Interrupted the silence of one of the men present.
"Kindergarten," the woman objected.
- Sports ground! - sounded youthful voice.
- You do not understand, comrades! - Tyurin got upset, - Vasya is a very promising athlete! If you do not create the conditions for the development of his sports career, he can go abroad! We already have suggestions. Here today he will board the plane and fly away!
Gomon verse. Silence hung in the hall again.
- Hmm, - Pakhomych got up, threw a cigarette on the floor and trampled it with a boot, - Fly away, you say? Well, the feather in his ass - for ease.