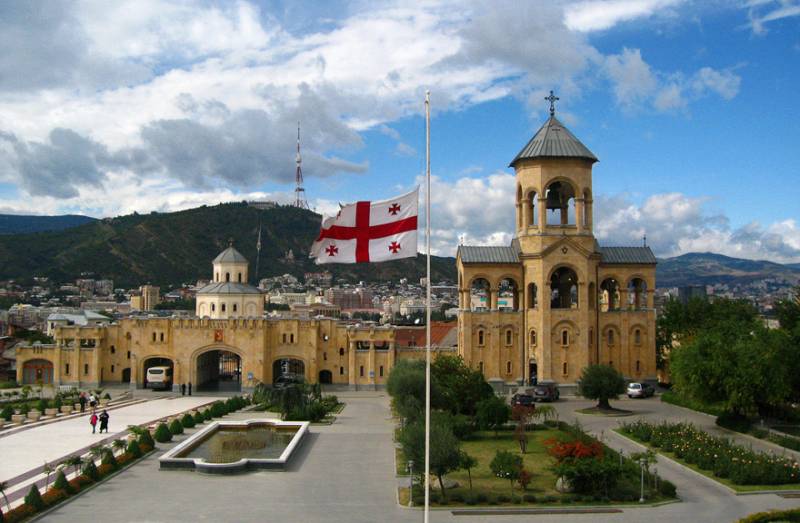 The problems of relations with the Georgian state have become practically stable and unsolvable, and many have a strange impression that this has always been the case. And even in the mass consciousness in relation to the Georgian state there remained almost one negative. It is better to keep silent about the attitude of the new generation of Georgians to modern Russia.
Nowadays, many people forget that Georgia is an Orthodox state. So it goes. Not Catholic, and not Muslim never. Moreover, for many reasons, including religious ones, Georgia constantly came under attack from either the Persians or the Turks. What was that was.
A normal quiet life without taxes "living goods" began there from the moment of entry into the Russian Empire. It was then that Georgia was united from individual pieces and pieces. No, you can, of course, theoretically assume that there would be a Georgian patriot and a great statist who would do it all himself. Why not dream? Such an alternative reality would be quite enough. But as we well understand, with the geopolitical situation that existed in Transcaucasia and on Georgian lands, this option is absolutely incredible. "The princes are divided," and unlike Kievan Rus, these princes are just to hell. And everyone is ready to fight to the death
for your personal power
. Plus there are powerful external players to whom every prince is ready to ask for help.
That is, "voluntarily" no one would ever unite, and if some Georgian Oda Nobunaga were found, then his unfortunate rivals
immediately
would rush to Turkey and Persia for "help against the usurper." Such is Georgian "patriotism". Georgia could arise only within the framework of the Russian Empire and nothing else. It is, in general, within its framework. Due to the fact that external power and economic resources were attracted. And it is clear that many "princes" were terribly offended. Although some other way of combining could not be. Here, as always, is a contradiction familiar to all: either one large and successful project, or many proud and "independent" semi-poor houses.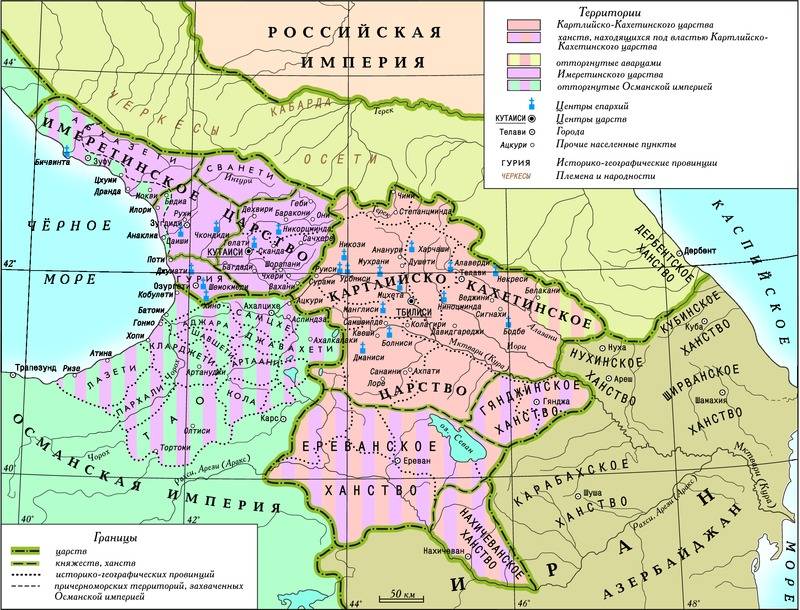 And, in principle, Russian / Soviet Georgia until a certain point was a completely successful project. And it was created just thanks to an external resource (power and economic). This approach provided a quick and relatively bloodless association. It was within the framework of the Russian imperial project that Georgian culture developed (painting!), It was after the entry into Russia that the Georgians stopped being "Asians" and became Europeans. Of course, it's not tolerant, but that's how it was: Georgians got access to European culture within the Russian Empire and in no other way. Whether they became Europeans is another question. And so, for some reason, all Georgian nationalists somehow quickly forget that Georgian nationalism became possible just within the framework of the Russian Empire: for comparison, look at modern "European Turkey" and the position of the Kurds there. Or ask Armenians whether it is easy to be a national minority in Turkey. And in general there would be Megrelian nationalism, Laz, Svan ...
So here: Georgia, which is modern for us, is in many ways a product of the USSR / RI, whether it is pleasant to someone in Tbilisi or not. And what is characteristic: when the external economic and power feed was eliminated, the country began to fall apart. And this is not the machinations of enemies - this is the natural course of events, the resources of Georgia are not enough for a sustainable centralized state. In this impoverished territory (and no one except Moscow did not give money), centrifugal processes have increased dramatically, which is normal: the system returns to its original state. But not quite: there are a lot of claims and resentment towards Russia itself. That, in principle, quite funny - Georgia, with its "statehood", culture and economy, was an artificial creation within the framework of the empire. No more, no less. The resources required for this were scooped from the all-imperial boiler, and no one really bothered about this.
But when the boiler was gone ... The fundamental non-viability of the Georgian state was sharply exposed. And for this we make a complaint, but we have to do with it? We are not magicians after all. Or rather, almost wizards, but for now we are learning. That is, the Georgians were shown the current model of the state of Georgia with a good southern European standard of living for imperial money. The empire left, the model died: the lights went out and the wheels stopped spinning ... And there were no others willing to maintain this system. Such a Georgian paradox is obtained (even more paradoxical than Ukrainian): unlike Ukraine (which theoretically could be rich), Georgia could be successful
only
in the framework of the imperial project and nothing else. Somehow I don't remember a united, rich and successful Georgia outside the framework of the Republic of Ingushetia / USSR. I do not remember.
The terrible poverty in which modern "independent" Georgia has plunged, and the territorial division that we are seeing, is just the normal and natural state of affairs. A kind of "spherical Georgia in a vacuum." But the most paradoxical thing is that Georgians terribly hate Russians at the same time. Well, they would cut out South Ossetia and what? Would that solve all their problems? Would Georgia become rich and prosperous? This is a kind of "childish idiocy": we will unite the country with iron and blood and this will solve all our problems. Otherwise nothing. Well, Abkhazia would turn into a graveyard ... So what? Would Tbilisi be the second Seoul? I just can not understand how an economic miracle follows from the genocide. I do not catch up.
The problem is precisely in this - the Georgians were not going in principle about anything to negotiate with national minorities. In general, all these Caucasian independent states are positioning themselves as European, but they are pursuing a 100% classic Asian policy: "We'll be cutting!" And the whole story. This is a little alarming. Politicians in Tbilisi cannot understand in any way that a single prosperous Georgian state within the borders of the GSSR is impossible technically. Theoretically, it is possible to "zazet" everyone, but one cannot build a European state in Georgia, relying on the resources of Georgia itself. Such an unpleasant paradox.
Neither Europe nor America is in a hurry to provide such resources. The reason is simple: expensive. By our standards, the organization of a "happy childhood" for the five million Georgian people was something natural and not very expensive, but in the West it is customary to start to count notes on the other side of a pack. And they will never give money to Tbilisi. But the Georgians are not discouraged: they are bursting into the EU and NATO, sincerely hate Russia. They are waiting for something from this life ... Here is such a tragic discrepancy between dreams and realities: within the Western bloc, they can only be a poor third world country with a very unstable state, but they absolutely do not want to be friends with Russia categorically. Hedgehogs cried, injected, but continued to climb on the cactus. That is, all further "efforts" of the Georgians will not lead to anything good.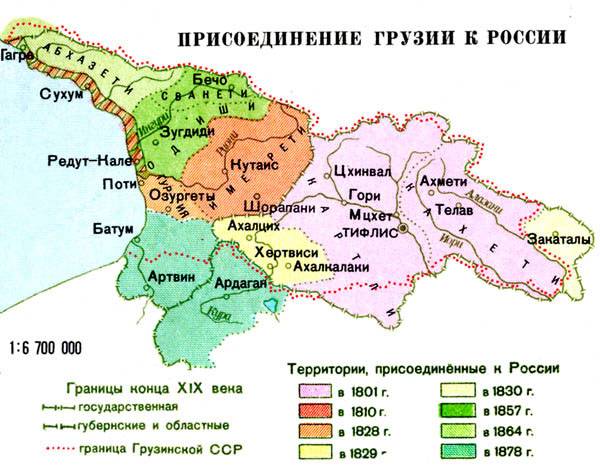 Their position in relation to Russia is simple to ugliness: return Abkhazia, Yu. Ossetia and then "talk". And, as we all understand, "let's talk" does not mean at all that the American military (including the guys from the secret biolaboratory) will leave the hospitable land of Sakartvelo and Shoigu guys will take their place. This (as we all understand) will never happen. Then what are you talking about? The thing is that frankly not rich Georgia would like to make money on that very "enemy Russia". And even just to get help (the memory of the "money from Moscow" is still alive in the hearts of the Georgians!).
All this is understandable, good and healthy, but one thing is unclear: what is the interest of Russia here? We then all this why? What will we have from this "super-project"? The funny thing is that this is exactly what the Georgians themselves and their politicians are offering us. In all seriousness. And then we will have a "good relationship." No, when the Americans propose a similar version of a gradual capitulation for the sake of "good relations", then a certain logic can still be traced, but when the Georgians offer the same thing ... It becomes really scary. They say that we are pursuing the wrong policy towards Georgia, but what will the right one look like? At least about? Theoretically, what can be done here?
That is, it seems that we have a common religion, and
история
... And seemingly purely theoretically, the attitude of Georgians towards Russia should have been very positive and respectful. But for some reason this does not happen. Strange as it may seem, such an attitude takes place to the same Europeans / Americans (especially Americans!), But not to Russians. I.e
that
specifically America made for Georgia? Nothing. In fact - nothing. To smile broadly, to firmly shake the hands of local politicians and to clap their shoulders in a friendly way - this means "nothing". But the Georgians sent a very large (by the standards of a small country) contingent to Afghanistan.
Of the non-NATO countries, they sent the largest contingent altogether. And their casualties were there (but no one was indignant). And what did they get in return? Friendship of the great American people! But with Russia, the "option of good relations" includes "according to the list": "territorial returns," economic preferences, a visa-free regime ... and what do we get in return? Friendship of the great Georgian people! So it goes.
Somehow, wrongly, we are building relations with our neighbors, and they perceive us incorrectly, even if quite Orthodox Georgia wants to play in the relations with Russia the role that the United States of America plays in relations with Georgia. And most likely Bulgarians and Belarusians are also concerned.
Articles from this series:
Bulgarian syndrome