In the assembly hall of the Russian Center for Science and Culture (RCSC) in Damascus, for the first time in the last seven years, festive events were held for children in honor of the New Year, reports
TASS
.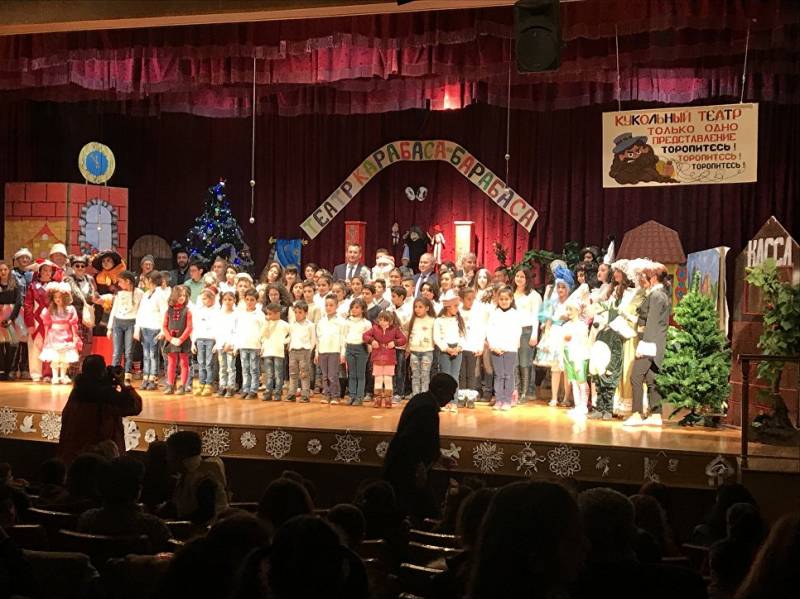 The Russian and Syrian children were shown the theatrical production "Pinocchio" and presented gifts from Father Frost and Snow Maiden. The last time such mass events were held at the RCSC in 2010.
Today we began to celebrate New Year here, in Damascus, in the Russian Cultural Center, on the stage of which there was silence for seven years. More than three hundred children with parents, our compatriots who came to this holiday, I hope, got a lot of pleasure,
the deputy head of Rossotrudnichestvo, Alexei Frolov, told reporters.
Everyone knows "Buratino", so even the guys from orphanages who do not speak Russian, I think they all understood from the plot that good triumphs over evil. The war ends, a peaceful life takes its
he noted.
We together, hand in hand, set up and dressed up a Christmas tree. Then, all together, as our military with the Syrian army joined hands, freeing Syria from terrorism, today we are in peaceful life, holding hands, leading a round dance around the Christmas tree as a single creative team,
said the deputy head of Rossotrudnichestvo.
Frolov stressed that the RCSC, despite the unstable situation in the republic and the absence of seconded employees from Russia, did not stop its work.
Our Syrian collective worked throughout the years in the center. They were not afraid, despite the fact that they were threatened, and threatened their families. These people opened the doors of the center every day,
he said.
The agency recalls that Rossotrudnichestvo, with the support of the Russian Embassy and the SAR authorities, organized and conducted two large-scale events in Damascus in December: at the beginning of the month Russian musicians gave a concert at the Damascus Opera House, and a week later a friendly match was held in Syria the participation of Russian and Syrian basketball stars.