The United States does not seek to dismember Syria, using for this purpose even the so-called demarcation line separating from each other the zones of action of the Russian and American Armed Forces in the republic, said US Secretary of Defense James Mattis, commenting on the course of the fight against Islamic State (IG, banned in the Russian Federation).
He confirmed that the United States intends to intensify efforts undertaken in those areas of Syria that are not controlled by the authorities in Damascus and are freed from the IS militants.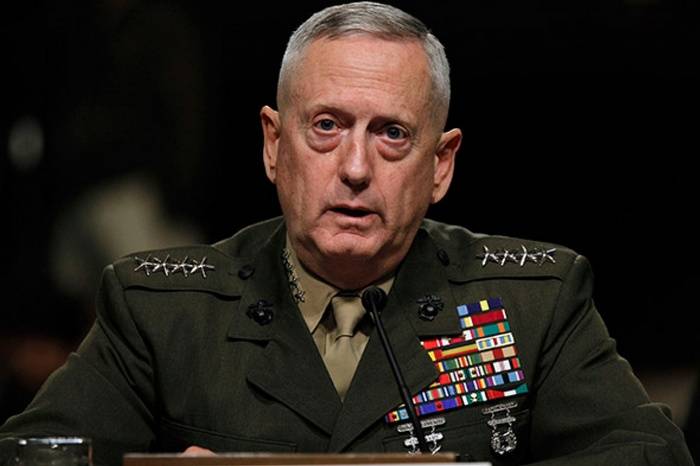 We have a demarcation line, and so now
- said Mattis.
In this regard, he was asked whether it means that Washington's plan is to dismember Syria into several different countries. "No," said the head of the US military.
At the same time, he warned the forces of the Syrian government to cross the "demarcation line". When asked what would happen if Syrian troops did this, Mattis replied:
It would probably be [on their part] a mistake. "" This is the demarcation line, and we said that we would act on one side of it, and the Russians on the other.
At the same time, he clarified that the forces controlled by Damascus did not attempt to cross this conditional border.
They don't even try to [do] it, so [this question] doesn't bother me
- Mattis said.
He also argued that the United States and its partners "on the ground" are not going to invade areas controlled by the Syrian authorities in order to fight IS.
We do not need to do it
- said the Minister, whose transcript of statements was distributed by the Pentagon press service.
In addition, Mattis explained that in connection with the destruction of the "caliphate" the IS will change the nature of the US operation in Iraq and Syria, focusing on efforts to stabilize the liberated areas, and not on an "offensive approach involving the seizure of territory."
This, according to the minister, includes, among other things, the transfer to Syria of the zones of American diplomats not controlled by the authorities, which, according to Washington, will coordinate the work of contractors, the restoration of public utilities and similar reconstruction projects.
The armed forces will ensure the movement of our diplomats, guarantee their protection
- said Mattis.
He promised, without going into details, that "from international donors" for the implementation of such rehabilitation projects, "including in Syria," large funds will be allocated.
We understand that the deconflict line [with the armed forces of Russia and Syria] runs along the river [Euphrates]. She [that is, this conditional boundary] still held. There were problems with this, but we generally solved these problems day after day, and the [telephone] line for preventing conflicts between us and the Russian forces never stopped working. There has never been such a thing that we called and did not answer us; and it never happened that they called but we didn't answer
- TASS transmits the words of Mattis.