Edition
"Glavred"
publishes an interview with the ex-deputy chief of the General Staff of the Armed Forces of Ukraine, Lieutenant-General Igor Romanenko. Candidate of military sciences, he is a doctor of technical sciences, professor commented on the construction by Russia of a bridge connecting the continental part of the country with the Crimea peninsula. The conversation turned to the "risks" for the Crimean Bridge. The Ukrainian general called one of such risks ... missiles.
From the statement Romanenko:
The bridge is a strategic artery that can provide the appropriate Crimean enemy grouping, as well as contribute to the economic growth of Crimea. Although from a military point of view, it is vulnerable enough to
aviation
, land and sea-based missiles.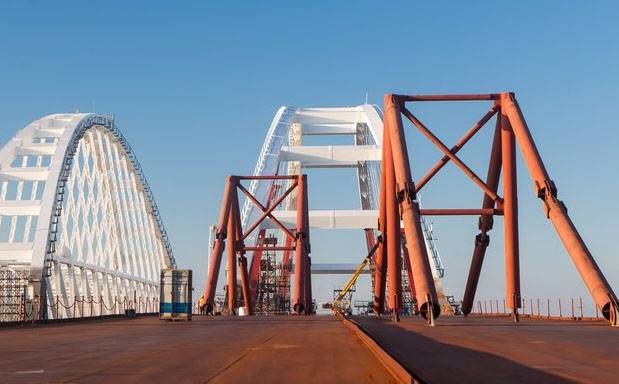 And what is a typical civilian infrastructure object, by definition, vulnerable to missiles and aviation? And what level of expertise does this general give himself after thinking about the very possibility of launching a missile strike on a bridge? After such a "strike," will Ukraine itself become vulnerable to missiles? ..
For reference: Romanenko at one time graduated from the Minsk Higher Engineering Air Defense Missile School of Air Defense in the radio engineering specialty (with honors); Military Command Academy Air Defense named after G.K. Zhukova (1981) (with honors); Academy of the Armed Forces of Ukraine (1996); Kyiv National T. Shevchenko University in 2006, majoring in Finance.
Now this highly educated general is apparently reflecting on the possibility of launching missile strikes on the bridge, which will become the main transport artery for the Crimean peninsula.