Ukrainian State Concern "Ukroboronprom" published a release on the implementation of the state defense order. Taking into account the fact that many enterprises, according to their own management, are under-funded from the state budget, Ukroboronprom draws an idealistic picture: the GOZ is made on 100%.
Recall that in Russia, the state defense order, according to recent statements by Dmitry Rogozin, will be executed at the end of the year by 97-98%.
From the statement of the press service of "Ukroboronprom":
During this year, 3673 units of military equipment and weapons were transferred to the armed forces, the national guard and other power structures of Ukraine. Of these, 2053 is a completely new and modernized weapon.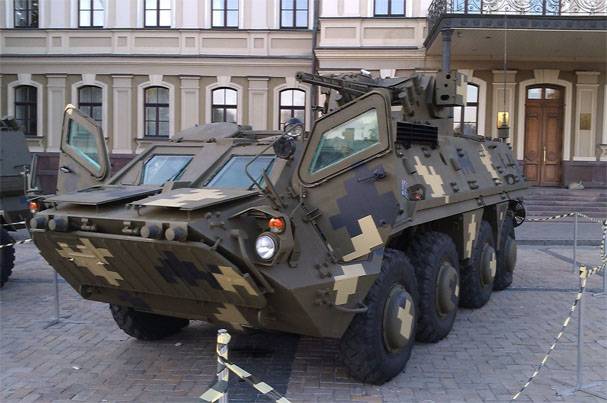 Converting the specified value of "brand new and modernized weapons" to percentages, one can get about 56%. And just a few days ago, the Ministry of Defense of Ukraine stated that such weapons were delivered to the troops "almost 70%".
"Ukroboronprom":
During the year, dozens of factories handed over to the defenders new, modernized and restored weapons, which were immediately sent to military units. We are talking about more than fifty
tanks
"Bulat" restored at the Kharkov state enterprise "Plant named after Malyshev ", dozens of new BTR-4 and BTR-3 from KHMB them. Morozov and the Kiev Armored Plant, new radars and electronic warfare systems from Zaporizhzhya Iskra, missile armament from KB GKKB Luch and GAEK Artyom and hundreds of other weapons.
It is noted that in 2017, the portable rocket complex "Corsair" was adopted by the APU.
Against this background, the Ministry of Energy of Ukraine reports on the "closure of the American coal supply plan" for the year 2017. It is stated that two more bulk carriers with "American steam coal" arrived at the ports of Odessa region. In total, it is necessary to unload more than 130 thousand tons of coal.