At the international exhibition Gulf Defense & Aerospace held in December 2017 in Kuwait, the Russian JSC Experimental Design Bureau Novator named after L.V. Lyuliev "(Yekaterinburg; part of Almaz-Antey) presented for the first time a new ground-based mobile version of its Сlub missile system (export version of the Caliber complex), designated Club-T, reports
bmpd
citing Jane's Missiles & Rockets magazine.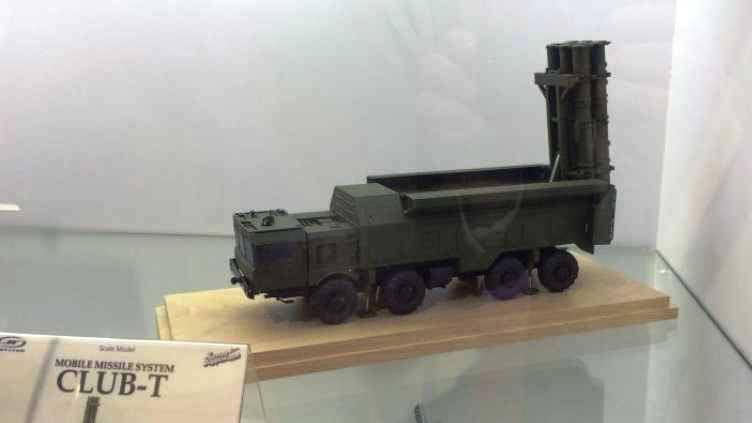 "Unlike the similar ground-based Club-M complex (demonstrated at the MAKS-2007 air show, which was used, the Club-T complex is already using the same programs, which will help you with the drop-in flyers), the Club-T complex is the same as the owner of the program, you will be able to fly to the open-market programs of the X-NUMX and 354KEE types of objects. Accordingly, the targeting equipment with the corresponding machine has been removed from the complex, and only autonomous launchers are left on the MZKT-3 chassis (54х1), each of which hosts six transport-launch containers, "the article says.
What specifically cruise missile version 3М14Э1 differs from the previously demonstrated 3М14Э / КЭ missile is not disclosed. The stated range of flight 3М14Э1 - 275 km. The mass of the missile warhead - 450 kg.
It is reported that "the launch of cruise missiles from the Club-T launcher can be done within 15 minutes from the moment of deployment, the missiles are launched at intervals of 5-10 seconds."
Also, Novator's head of external relations department, Mikhail Pakhomov, said that the company is close to completing work to integrate the anti-ship missiles 3М54Е and 3М54Е1 into the Club-T complex (as you can see, their use is assumed according to external targeting).
Bmpd comment: "Presumably, the Club-T complex self-propelled launchers are analogous to those of the most challenging attacks from the US allegedly" extended "launchers of the Iskander-M complex variant with the notorious 9X729 cruise missiles, which violate the terms of the Treaty on the Elimination of Medium and Short Range Missiles 1987 of the Year.