The Syrian army, with the help of the Russian Aerospace Forces, freed up three settlements in the province of Idlib. Kurdish fighters have acknowledged their involvement in the evacuation of terrorists from Raqqa. Reports about it
FAN
with reference to Syrian sources.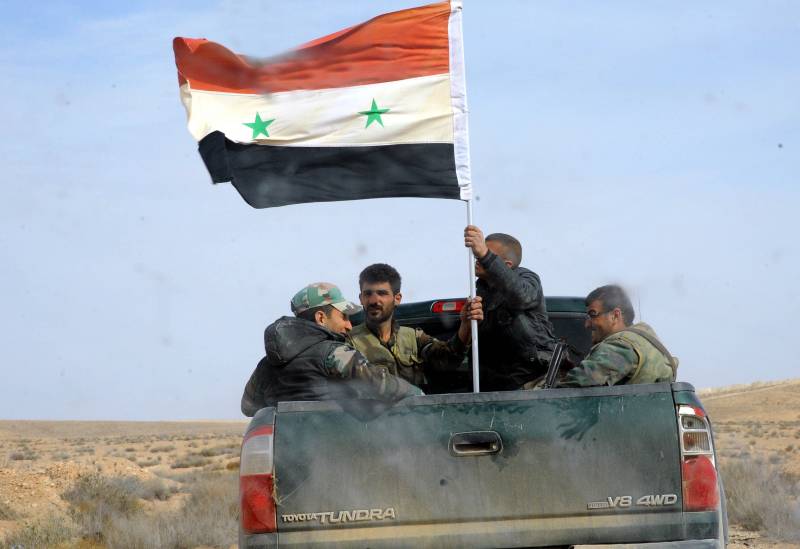 In the past 24 hours, a new group of civilians was evacuated within the framework of the agreement concluded the day before between the militants and the SAR forces - about 30 people left Eastern Guta and arrived in Damascus, where they were provided with necessary medical assistance. The previously occupied militant areas were left by a group of 34 people. In the afternoon, the Islamists tried to smuggle a large party into the occupied areas of Eastern Guta.
weapons
and ammunition, however, thanks to information received in a timely manner from the residents of Dar'a province, the smuggling was able to detect and seize.
The Syrian Democratic Army (SDF), operating in the province of Deir-ez-Zor with the support of the Western coalition, again confronted the IG terrorists (the group is banned in the Russian Federation), who fled to the left bank of the Euphrates under the onslaught of the Syrian troops and the Russian Federation forces very early in the month. The radicals attacked the Kurdish checkpoints near the Garanidh settlement, killing two Kurdish fighters. After that, the "democratic forces" opposed the igilovtsevs near the town of Suneida in the southeastern part of the region and captured it. In addition, SDF forces managed to occupy part of the city of Hajin.
The Syrian Arab Army (SAA) and pro-Assad groups, with the support of the Russian air forces, continued their assault on the position of a terrorist alliance in the area between Idlib and Hama. After several sorties
aviation
The Russian Federation and the SAR in the area of ​​the villages of Ariha, Khan Sabil and Dzhardzhanaz Syrian troops managed to significantly advance in the region. So, under the control of the government army, the settlements of Al-Mushayrif, Dajadj and Tamat Al-Kalifa passed. Moreover, in the afternoon, the SAA, with the help of the Russian Aerospace Forces, managed to occupy the heights of Al-Varid, Al-Maktaa and Al-Dajadzh near the strategic city of Abu Dali.
Despite the fact that the city of Raqqah has been under the control of the Syrian Democratic Army (SDF) for more than two months, the population of the provincial capital still cannot feel safe, since the work on clearing mines left by the Igilovites before the evacuation has not been completed. Two more people were killed in an explosion in the city center.
New evidence has emerged of the existence of a secret agreement between pro-American Kurdish forces and the IS militants. The news agency Al Masdar News published a video depicting the evacuation of terrorists from Rakka accompanied by Kurdish fighters. In addition, one of the SDF soldiers confirms this during the interview. Recall of the secret contract of the SDF and the IG was known earlier. This was also stated by the former speaker of the Talal Silo formation.