RIA News
With reference to Elena Sevastyanova, editor of the magazine of the military department "Voin of Russia", reports on innovations in the uniform for officers of the Armed Forces of the Russian Federation. Candidate
historical
Elena Sevastyanova, who holds the rank of colonel of the RF Armed Forces, notes that the officers received new lapel badges that resemble the insignia of the Russian guard of the 19th century.
New officer lapel badges for the Armed Forces of the Russian Federation were presented in Balashikha - at the Military Academy of the Strategic Missile Forces, on the basis of which an extended board of the Russian Ministry of Defense was held. We are talking about golden signs, made in the shape of a rectangle with protruding bases (upper and lower). There is a similarity in shape with the antique column.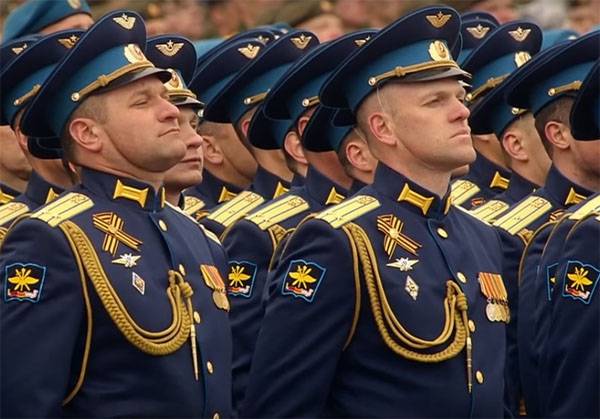 From the statement of Colonel Sevastyanova:
This paired sign of golden color, vaguely reminiscent of a Roman architectural column, is called a buttonhole. By the way, it has already become colloquially called a "spool" - allegedly because of its similarity to a wooden base for winding sewing threads. The modern buttonhole designed to be worn on the edges of the collar of the casual jacket of an officer of the Russian Armed Forces, apparently, dates back to the 1811 of the year. Then a similar sign was introduced in the Lithuanian Life Guards regiment formed in the Russian Imperial Army for wearing on the collar and cuffs of the uniform sleeves.
It is noted that similar signs appeared on the dress uniform of officers of the Soviet army. In particular, they can be seen in the frames of the Victory Parade, held in Moscow on June 24 1945. Buttonholes were located on the stand-up collars of green color. This kind of symbolism was also used on the cuffs of the uniforms from the middle of the 50s.
Elena Sevastyanova:
Now the historical buttonhole has again become an element of the general uniform of clothing.
Navy
officers are provided with the clothing department of the Ministry of Defense of the Russian Federation with another emblem depicting a traditional Admiralty anchor. The same golden metal sign has been used since Soviet times to be worn by officers of the Navy on ceremonial black jackets.
According to Elena Sevastyanova, the agency will soon replace expensive embroidery and aluminum stamping (for the anchor of naval officers) with cheaper plastic options for buttonholes.