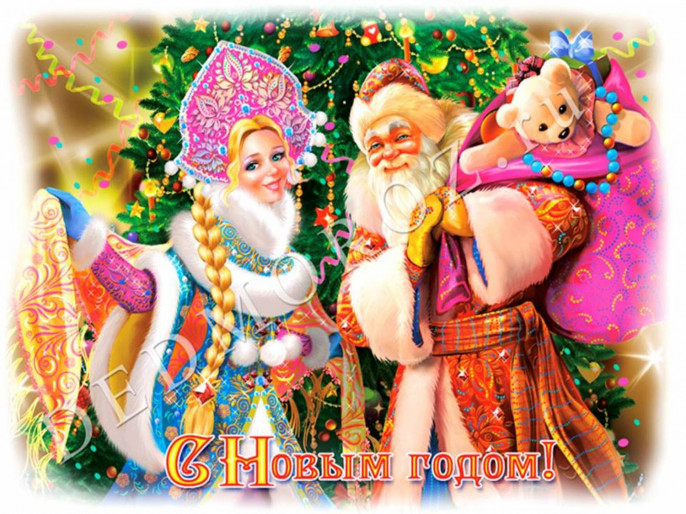 Night descended on Moscow, ruby ​​stars flashed brightly over the spiers of the Kremlin
- The road will be difficult. Dangerous. Banned you in Ukraine. You are outlawed there now. Do you understand?
"Of course, I understand," Father Frost rose and pulled down his fur coat tightly. - Do not worry, Vladimir Vladimirovich. Snow Maiden and I have been in all sorts of trouble. We will cope. Will Russian children in Ukraine New Year's holiday.
******************************************
... Santa Claus put binoculars to his eyes. The endless plain, as if covered with a white blanket, sparkled under the moonlight. For miles, neither man nor beast.
"Ukraine ..." said Santa Claus. - Well, granddaughter, now look both ways.
He touched the reins and the three without the usual ringing of bells (cut off) quietly moved off.
A kilometer after kilometer, versts per mile remained behind. And suddenly, with wild whistles, an equestrian squad jumped out of the forest and, swinging their sabers, rushed after the sled.
- Cyborgs! - Cried Snow Maiden. - Grandfather! Drive on
- Eh! Gain, valetnye! - Santa Claus shouted, waving the reins, - Do not move, dears! Now you are all reliable!
In a whirlwind of snow dust sleigh raced across the field.
- Grandfather! Overtake!
- To the machine gun!
Snow Maiden rushed to the end of the sleigh, threw back the mat, and took the Maxim handles.
"So, so, so ..." his comrade pounded.
Several cyborgs flew from the horses into the snow.
- Your gut is thin against Father Frost and Snow Maiden! - defiantly shouted the girl and again fell to the machine gun.
But cyborgs did not lag behind. They were divided into two groups and began to skirt the sleigh from both sides.
Only they suddenly stopped abruptly, turned their horses and rode in the opposite direction. Three horsemen descended from the hill towards the sleigh.
- Ooh, oh, basurman! - one of the horsemen shook his fist after the cyborg hiding from his eyes. - Ilovaisk and Debaltseve are not enough for you! Kulikovo battle wanted?
- Thanks you! - Santa Claus wiped his face off his head. "If it were not for you ... Call-magnify something like you?" To thank someone?
- Ilya Muromets, Dobrynya Nikitich and Alyosha Popovich.
- And then how were you?
"So we were also banned." Partisan little by little. Helping people. Here Nightingale the robber was caught, - Dobrynya jabbed his finger behind his back, where a bow-legged dwarf was stuck to the saddle in yellow-bloky trousers and a long forehead on his shaved head.
- Keep the path far? - asked Ilya.
- To Kiev. New Year's gifts for children we carry.
The warriors looked at each other:
- We will help. We will hold to Kiev. Children will not remain without a New Year's holiday.
*************************************************
... Santa Claus and Snow Maiden rode through the night Kiev. Father Frost stopped a sleigh near a poster hanging on the wall: "Dangerous enemies of Ukraine are being searched for Father Frost and Snow Maiden! Alive or dead! Say no to Santa Claus! Long live Santa Claus! "
"I know this Santa," Santa Claus muttered. - Still that hack: neither to cheer children, nor to tell a poem. Only Coca-Cola advertise and can.
The sledge went to Sophia Square.
- What is it, grandfather? - frightened gasped Snow Maiden.
Santa Claus took off his hat and crossed himself.
- This is a Christmas tree, granddaughter.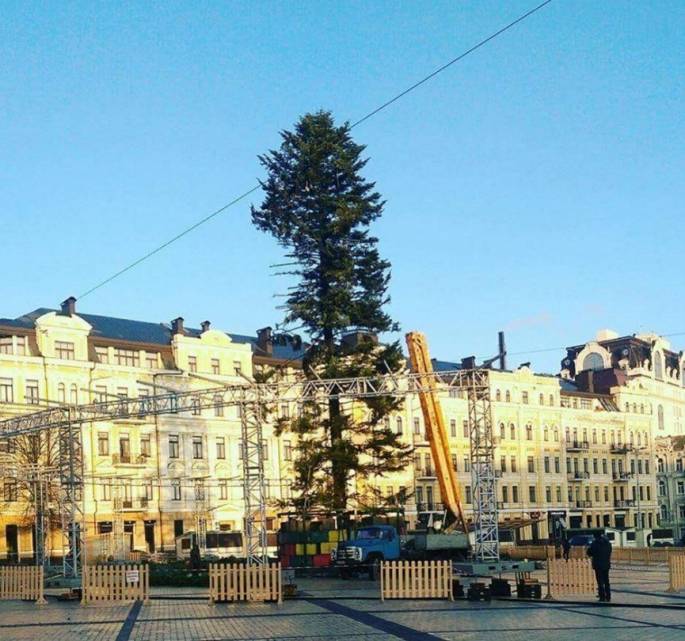 The Snow Maiden descended from the sled, walked over to the bald forest beauty and pressed her face to the trunk of the tree. A tear rolled down her face.
- What did they do to you, Herods ...
Father Frost came up from behind and touched the Snow Maiden by the shoulder:
"Let's go," he said sternly. - No time to limp. Children are waiting for us.
************************************************** *
... At the door of the kindergarten, Santa Claus stopped, straightened a bag lying on his shoulder and knocked on the door two times, then three more. The door opened slightly, a woman appeared behind her.
"We are from Uncle Vova," Father Frost said the password.
- Finally. We already thought you would not come at all ... - the woman opened the door and introduced herself, - Elena Vladimirovna, the teacher.
"December 25, we had a Christmas party," Elena said in a mournful voice, leading the guests through dark corridors with a candle in her hand.
"Saint Nicholas came to congratulate the children," she continued. - In camouflage, with one leg and one eye. Matinee began with a moment of silence in memory of the dead heroes of the ATO. Then he told how he fought for the freedom of Ukraine, showed how to disassemble the machine gun and explained the device of the F-1 grenade.
- And the contests? Songs? Poems? Round dance? - surprised Maiden.
- Everything was. He held a contest for the best embroidery, sang "Pliva Kacha Tisini" in memory of the heroes of the Heavenly Hundred, taught the children to dance fighting gopak. Yes, and I read "Green Oak at Lukomorya ..."
"Well, at least it's good," the Snow Maiden sighed.
"In translation," the woman finished.
She stopped and began to read:
The edge of the lukomorya is a green oak,
І gold lantsyug on him:
Day І and nich there kit exercises
On lantsyugu tim circle;
Правde pravoruch - spіv start,
Lіvoruch - dogskom homie.
Diva there: lisovik wander there,
Mermaid on gіlі sit ..
"No, stop it," Father Frost groaned.
- Can you imagine what the children were? The woman whispered bitterly. "One girl later painted this Lukomorye," Elena handed Santa Claus a piece of paper on which was painted an oak tree and a huge sperm whale with glasses on a tree.
- Who is this? - surprised Santa Claus.
- Whale scientist.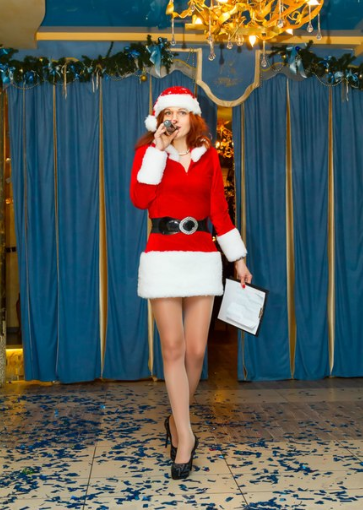 They came to the door, Elena pushed her. Father Frost and Snow Maiden entered the hall filled with light.
- Santa Claus! Maiden! - dozens of children rushed to them, covered them from all sides.
And in the middle of the hall a small, but neat and fluffy Christmas tree glittered with Christmas balls.
And then on "One-two-three, herringbone, burn!" The Christmas garland flashed on the Christmas tree, the children sang "A Christmas tree was born in the forest", and Santa Claus and Snow Maiden "Tell me, Snow Maiden, where was you?" And of course, there were gifts.
************************************************** **
... When the sun was already rising, on the Russian-Ukrainian border three bogatyrs were bidding farewell to Santa Claus and Snow Maiden.
"Thank you, Ilya, Dobrynya, Alyosha," Father Frost bowed, and Snow Maiden came up and kissed each of the warriors. And although the kiss of the Snow Maiden was not hot, the faces of all three were flushed.
- Maybe you are with us? Back home? - asked Snow Maiden.
- And who will help the Russian people here? - Alesha was surprised.
- Who is the capital city of Kiev free from basurmans? - asked Dobrynya.
"It's inconvenient to ask ..." Illya hesitated. - But we also sent you a letter via the Internet. Hasn't it come down?
- There was a letter, I remember. There are gifts for you, too, "said Father Frost, went up to the sledge and raked hay. - Here, everything, as you asked.
- Wow! - escaped from the heroes.
At the bottom of the sleigh lay three AK machine guns and one machine gun.
Well, hold on now, basurman!