Ukrainian President Petro Poroshenko is having a hard time after the actual award by the Stockholm arbitration of the need to return Kiev to buy gas from Russia directly. Recall that earlier, the Ukrainian authorities, buying the same Russian gas, but from the Slovaks, Poles and Hungarians, and at a significantly inflated price, declared "a complete rejection of gas purchases from the aggressor country." Moreover, ordinary Ukrainians perfectly understood whose gas they used, but official Kiev did not let up, every time trying to declare that "there is no Russian gas in Ukraine."
After the decision of the Stockholm arbitration, Ukraine has to return to direct gas purchases from Gazprom, and Poroshenko, in turn, has to pick up words of explanation - how is it that energy sources are "being acquired from the aggressor again?"
And Poroshenko is trying to find the right rhetoric. From his statement today:
They knock: can you take our gas? No, we are fine. If he is cheap, if he is honest and non-corrupt, please. And what is it for us? To lower tariffs for our people.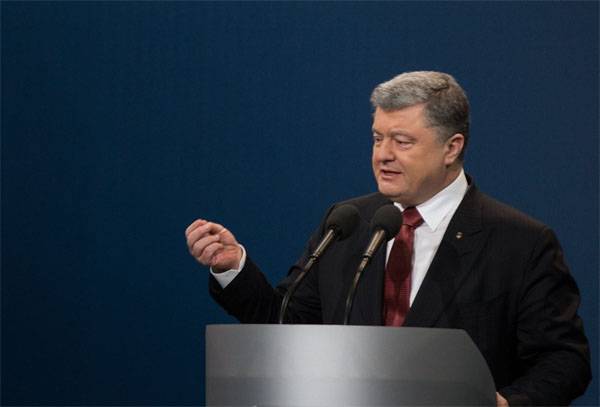 Poroshenko responded to this statement in the State Duma of the Russian Federation. Pavel Zavalny, chairman of the energy committee of the lower house of the Russian parliament, notes that the gas that Kiev is currently buying re-exports costs Ukrainians an average of 20 dollars per thousand cubic meters more expensive. With this statement, the deputy hints that it was the Ukrainian authorities who invested the corruption component in the purchase of gas, in fact deceiving their citizens.