Indian media today report continuing to build their own missile defense system. In particular, it is reported that today at an altitude of 15 km over the Bay of Bengal, a ballistic missile intercepted from one of the landfills of the Indian Armed Forces was intercepted. To destroy the ballistic target applied "advanced interceptor increased range." This is reported by the portal.
Indian Defense News
.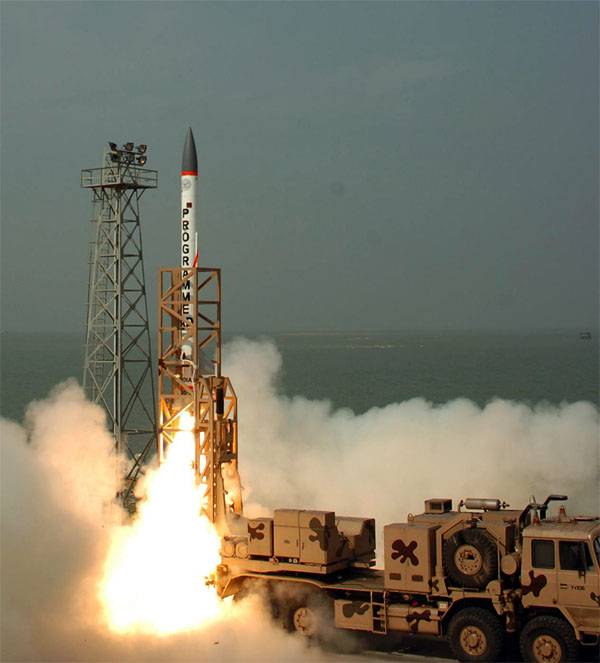 From the statement of the press service of the Indian Ministry of Defense:
A missile defense system radar detected an incoming missile, tracked it and addressed a command to launch an interceptor missile. The mission was successful because the interceptor missile delivered an accurate strike.
It is reported that ground services tracked the main parameters of the anti-missile, which was released from the landfill on the island of Abdul Kalam. It is reported that the analysis led to the conclusion about the uninterrupted operation of the on-board computer, coordination system and targeting. The flight control of the rocket, its temperature parameters and the effectiveness of interception were monitored, including using infrared sensors.
From the statement of a government official, whose name is not called:
Tests have confirmed the skill of the creators of this type of missiles.
We are talking about testing modifications of a single-stage solid-fuel rocket AAD, which has a diameter of about half a meter, a length of 7,5 m and a mass of about 1,2 t. This rocket has been going through a system of modernization and testing over the last few years. It is officially reported that its range is 750 km. Unofficially - to 2,5 thousand. Km.