The Pantsir-С1 anti-aircraft missile-cannon complex (ZRPK) only in 2017 year repelled a dozen international terrorist attackers and proved to be highly effective in the near-air defense zone of the Russian Hmeimim airbase, RIA said
News
on Thursday, Vladimir Korovin, an expert at the center for military-political research at MGIMO-University, commenting on the destruction by combat crews of the Pantsir-S1 air defense system of two missiles fired by Russian militants
aviation
base Hmeimim in Latakia from the village of Bdam in the province of Idlib.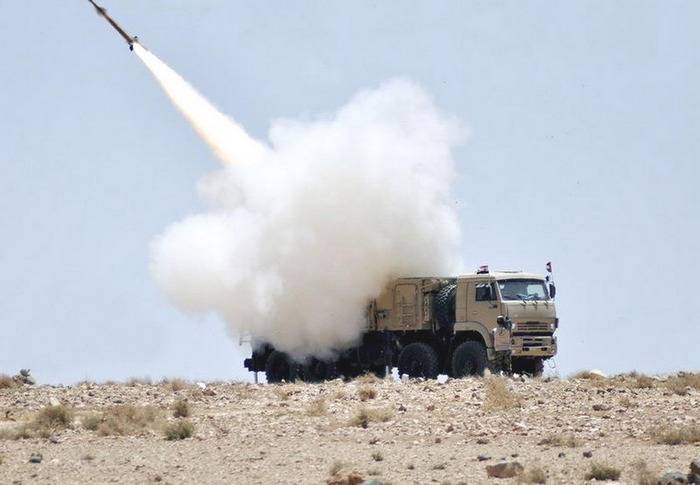 This is not the first case. In 2017, similar cases occurred more than once, there were about a dozen of them, when the Pantsir reflected the attacks of such unguided rocket weapons.
- said Korovin.
According to him, the terrorists in Syria have "all sorts of home-made rocket means, and also have what they supplied in the old days - they can be called an analog of the rocket of the rocket multiple launch rocket system" Grad. "He specified that these missiles are not used in the salvo - "they are allowed one by one or several missiles are flying."
Armor-C1 "and is designed to destroy such air targets. This is a regular situation for him. The complex, like the C-400 SAM, protects the Russian airbase in Syria and successfully knocks off such attacking non-standard rocket weapons
- noted the military expert.
He added that "any air defense system, including in Hmeimim, is built on being echeloned, capable of knocking out the enemy's air attack means one after another."
Anti-aircraft defense of the Russian airbase Hmeimim provides long-range anti-aircraft missile system (ZRS) C-400 "Triumph" and ZRPK "Armor-C1". The air defense zone of the Russian Navy's logistics center in Tartus in Syria is provided by the C-300 air defense system.