The Iraqi army began installing Russian anti-tank systems on American-made armored cars. Photos of such an international hybrid appeared recently on the web.
ATGM "Cornet-E" is actively used by the armed forces of Iraq in the battles with terrorists. So, the 9М133ФМ-2 missiles with a thermobaric warhead demonstrated good efficiency against manpower and light armored vehicles of the enemy.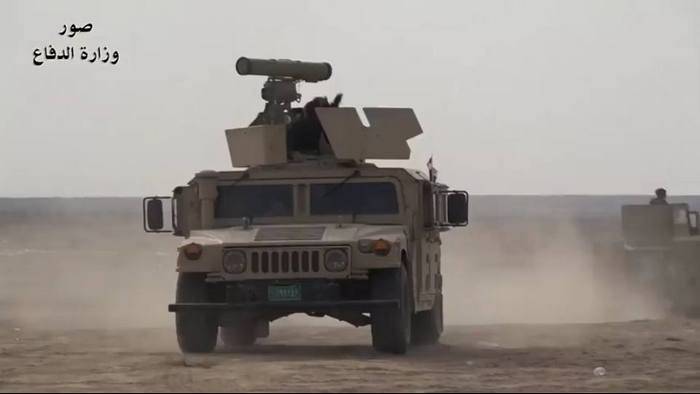 At present, the Humvi armored vehicles deployed by the US and equipped with Cornet-E missile systems have been spotted in the Iraqi army. Launchers installed on the roof, in rotating turrets with large-caliber machine guns M2 "Browning" dismantled.
According to military experts, such field modernization will give the mobility of anti-tank systems, will increase the security of the operator. However, this, in essence, homemade design is significantly inferior to the Quartet complex specially created in Russia, which can be installed on various light armored vehicles, including the Humvee.
On the same rail, 4 rockets are installed immediately, which, guided by a laser beam, are capable of hitting targets at a distance of 5500 meters by day and 4500 meters at night. Penetration reaches 1200 mm of armor for dynamic protection. Perhaps the use of two missiles at once on the same target.
Russian development was successfully tested by the UAE troops in 2015 during their operation in Yemen, reports RG-Sila