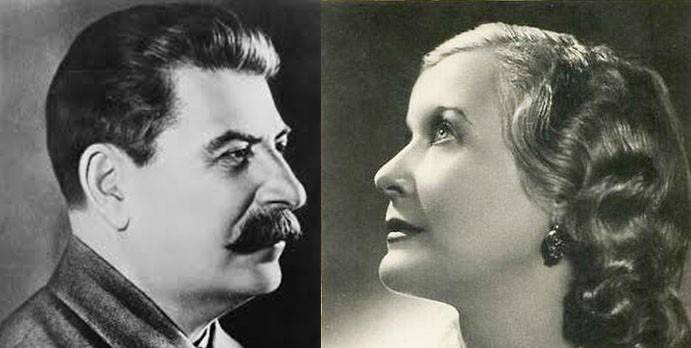 From the memoirs of Lyubov Orlova:
November 2 1961 years
What I can? I would put a monument to Him, only who will give it to me? Mean, mean people! A thousand times to write this word, it will still be not enough to express their meanness. All the curses of the world is not enough to express my opinion about them, villains who betrayed their Leader! Who would they be without Him? When Stalin was alive, they didn't know how to flatter, they cringe in front of him, they cringe. And now - triumph! Trying to defeat the dead after death. Mean and disgusting! We started with a condemnation, which gave a sort of "secret" to the prudes. Closed report! This is ridiculous! Or it was done on purpose, because all the secrets are spreading like lightning in our country. They defamed, removed the monuments, tried to erase the name from everywhere, where possible. But this was not enough for them. They are afraid of Him even dead, otherwise they would not have taken out of the Mausoleum. Secretly!
The biggest mystery, which has remained a mystery to me, is an extraordinary combination of incredible greatness with human sincerity and simplicity in Stalin. Never again have I met people who were both simple and majestic at the same time. Family legends say that both of these properties were inherent in Leo Tolstoy, but I can not judge. I can only judge what I saw with my own eyes.
I was always amazed by the great power that lay in this low, seemingly simple person. At first sight! Only at first! But Stalin kept himself very simply, without any fancying. So, probably, all people possessing internal power behave.
He was easy to communicate, did not draw at all, but everyone saw him as a Leader. A huge force came from Him, but this force did not oppress, did not crush, but, on the contrary, inspired, inspired, encouraged to do something good, prompted to accomplishments. It was a very special person, a man of exceptional talents, of exceptional strength. These are born rarely, once in a hundred years, or even less. And with all of his greatest (I'm not afraid of that word) virtues, Stalin was exceptionally, surprisingly modest. The cult, about which they speak so much now, was not created by Him, but by different sycophants.
I often recall and tell a lot about this incident that happened in Chelyabinsk at the Stalin tractor plant. I can not ignore him here. After the concert, the plant workers promised me to increase the production of piston rings to our next meeting, which was to take place very soon, after my return from Magnitogorsk. The workers kept their promise and in memory of this they gave me a piston ring with an inscription. About this case, even a poem was written.
Returning to Moscow, I showed this ring to Stalin. He really liked this gift. Witty and very correct idea. Stalin carefully read the inscription on the ring and thought. I waited for He to tell me.
"The state approach of the Chelyabinsk comrades," said Stalin, and cautiously, as if afraid of breaking, put the ring on the table. - Well done. So must the Soviet people. The actress Orlova is pleased, the plant team is pleased, I am pleased to know that there are such people in Chelyabinsk, and also to the state. Probably, it is necessary to prohibit giving artists flowers? Better give such gifts ...
I smiled, realizing that Stalin was joking.
"Let us leave the flowers alone," Stalin continued after a short pause. - You can't do without flowers, they create a festive mood. But the initiative is good, it is necessary to distribute. Who is the director of the Chelyabinsk tractor?
He called some name, it seems, on the letter "L". I was once again amazed at the phenomenal memory of Stalin. So remember everything!
And the more you can not judge by the pattern of a man like Stalin! And what template? Who are trying to expose Stalin, some "contemporaries"? (I deliberately take this word in quotation marks to emphasize my attitude towards them.) From somewhere came an image in which almost all human vices were collected. The expression "personality cult" is invented. Many slanderers appeared ... Insolent incompetent (I do not remember who said this, but the expression is exact). They would think about the lack of talent, but they all blamed on Stalin! Stalin prevented them from taking place, to realize themselves! No matter how wrong!
Sometimes I can not restrain myself. I know that they will not understand me, that they will begin to whisper behind my back, but nevertheless I cannot fail to say what I think, I cannot help but besiege the slanderer. And today in the theater after the meeting, having heard how V. [It is possible that V. is VP Maretskaya] rant about the "personality cult" and my "sufferings", I with all the malice that only I could squeeze out of myself , wondered what she meant by "suffering"? Four Stalin Prizes? Three orders? The title of folk artist?
Speaking with me, Stalin repeatedly mentioned that every person should be judged by his deeds. This is the materialistic approach characteristic of all communists.
G.V. [G.V. - the second husband, Lyubov Orlov, G. V. Alexandrov] often recalls how, in 1928, Stalin instructed them to trio before leaving for America.
- It was as if an experienced director, a wise senior comrade, was talking to us.
Before going abroad, Stalin advised to make a trip to the Soviet Union, to visit the great construction sites of that time, to visit the fields, including the virgin ones, which had just begun to be developed. See, understand, feel, breathe, how the Soviet country lives, so that there, abroad, be able to compare. Very good advice.
Not only is the person measured, but also in relation to people, especially to those who depend on him or obey him. Stalin was always polite with people. With all, without exception, from the closest associates, marshals, commissars to the maids and drivers. Harsh (but not rude, do not confuse harshness with rudeness!) Stalin became only with those who did not justify his trust or bored him with personal requests. Stalin himself was humble and valued modesty in others.
Speaking of art, Stalin certainly stressed that art should be class, party, Marxist-Leninist. Art outside the partisanship for Stalin did not exist. He was genuinely surprised and genuinely indignant when he witnessed a different approach.
First of all, he appreciated practical properties in everything, and then beauty. He did not neglect beauty, always remembered her, but did not make a cult out of her, did not chase after external gloss, did not like bright, catchy things. That particular style inherent in Him was the style of the era of great accomplishments that our country was experiencing at that time, it was a new Soviet style. At the head of this style were practicality and moderation. Beauty and all external effects in general were given second place. The second. Not the last, but the second. The subordination of the beauty of practicality did not diminish the impression, but, on the contrary, strengthened it.
"Any leadership is a collective matter," Stalin repeated more than once. - All merits and accomplishments are not individual, they belong to the team, and not to one person. Sole mistakes and mistakes are the only ones.
Modesty was one of the main qualities of Stalin. Everything in his daily life was simple - simple clothes, simple furniture, simple food. But even in this simplicity, Stalin's greatness was felt. True greatness does not need to be emphasized. Simplicity is the best background for it. It creates a kind of contrast, emphasizing, enhancing the impression.
Remembering Stalin now, I understand that 39 year became for him a milestone, an important, significant milestone. People change gradually. We do not notice the individual strokes, we notice when the whole picture changes. And sometimes you come to some conclusions later, when you start to remember and compare. So I, much later, relying on my memories, realized that in 40, Stalin became more restrained, stingy on judgments and forecasts. Then I didn't catch the essence of the changes, writing them off for fatigue, now for mood, and now I understand that the burden of responsibility on His shoulders was becoming heavier, and therefore certain changes occurred. But never, never, for all the time, did Stalin complain that his burden was unbearable, that he was tired, and so on. He did not complain of fatigue at all. Could mention her in passing, in passing.
Stalin always thought about business. Full rest did not know. Sometimes, during our conversation, I took a pencil and paper and quickly wrote down the thought that had come at that moment. It was felt that Stalin's mind was always busy with something. He could simultaneously discuss one thing and think of another. Unusual, great man.
Stalin spoke much less about the past, incomparably less than about the future. He looked ahead, as befits the Leader.
Too huge, immense scale personality.
With anyone not to compare Stalin, the comparison will always be in His favor. Whatever some may say now.