Reported on the procedure for the exchange of prisoners, which is carried out after agreeing on the details of the exchange between the authorities of Ukraine and LDNR. We are talking about the exchange according to the formula "all for all", but at the moment the previously declared number of prisoners does not correspond to the value noted during the exchange. There are reports from the scene that so far 74 people have been transferred to the Ukrainian side, and LDNR - 75 people.
The exchange of prisoners is carried out in the so-called "gray" zone - between Mayorsky, which is under the control of the Ukrainian Armed Forces, and Gorlovka. It is noted that not only members of the OSCE CMM are present at the prisoner exchange procedure, but also representatives of the Russian Orthodox Church, with whose assistance the negotiations took place.
Recall that the initial version of the exchange involved the transfer of Kiev 306 prisoners to the republics of Donbass and the transfer of prisoners 74 republics of the Donbas republics to Kiev. As you can see, representatives of LDNR fulfilled their obligations in full, which cannot be said of the representatives of the Ukrainian side.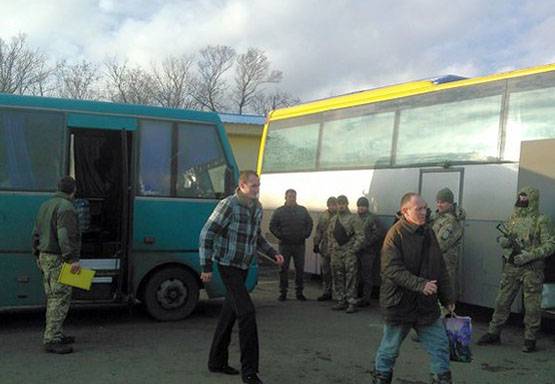 The Ukrainian side claims that the 43 person in general "did not arrive" for the procedure, since they had allegedly been released from prison because they had "served a sentence". At the same time, the Ukrainian ombudsman, Valeria Lutkovskaya, states that many prisoners "themselves did not express a desire to move to the uncontrolled territories of Donbass." And the same Ms. Lutkovskaya herself noted that in respect of a number of prisoners, permission to exchange was not received in December. According to her, the Ukrainian authorities "intend to give such permission in January."
Thus, Kiev once again violates the agreement, actually engaging in defamation of the "all for all" formula, to which he himself had previously declared declaratively.