The Vietnamese People's Army continues to use the Katyusha BM-13 rocket guard mortar. The image of the legendary technology, the production of which began a few hours before the start of World War II, recently appeared on the Vietnamese news site baodatviet.vn.
Machines captured during seasonal maintenance are of interest not quite common for the Katyusha chassis - the standard package of guides is installed on the three-axle ZIL-131 truck.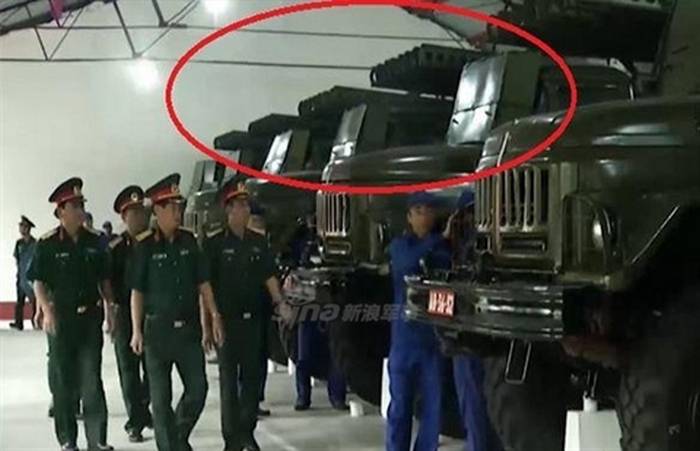 This modification has the designation BM-13HMM, it was put into service in the 1966 year. Compared to the "Katyushas" mounted on the chassis ZIS-151 and ZIL-157, the installation on the "thirty-first" has a more powerful engine, with the result that the maximum speed reaches 80 km / h.
The number of guides and target destruction range of the upgraded installation remained the same as that of the early 40-1 samples. This, of course, did not suit the command of the Soviet army. As a result, the obsolete technology in 70-e was almost completely supplanted by the more advanced BM-21 multiple launch rocket system Grad.
In the future, the BM-13HMM was used as sighting installations in the training regiments of multiple-launch rocket systems, as launch vehicle targets in units of military air defense. They were actively exported to the states that were allies of the USSR. They can still be seen in several countries in Africa, Asia and Latin America.
According to military experts, the modernized Katyushi were actively used by Vietnam during the fighting against the Khmer Rouge, during the operation in Kampuchea, as well as in the short-term Chinese-Vietnamese conflict in February 1979.
Despite the long-term operation, the Vietnamese People's Army, which is known for its careful attitude to the existing material part, is apparently not going to abandon the data of the veteran rocket launchers, reports RG-Sila