In Kaliningrad at the Baltic Shipbuilding Plant (PSZ) "Yantar", the solemn ceremony of raising the Military-naval flag of Russia on the patrol ship "Admiral Makarov" was held, the head of the Baltic region information department, captain of 1 rank Roman Martov, said
The event was attended by the commander of the Baltic
fleet
vice admiral Alexander Nosatov, head of the shipbuilding department of the Russian Navy, rear admiral Vladimir Tryapichnikov, representatives of the United Shipbuilding Corporation, which includes the Yantar Shipyard, Kaliningrad shipbuilders
- said in a statement.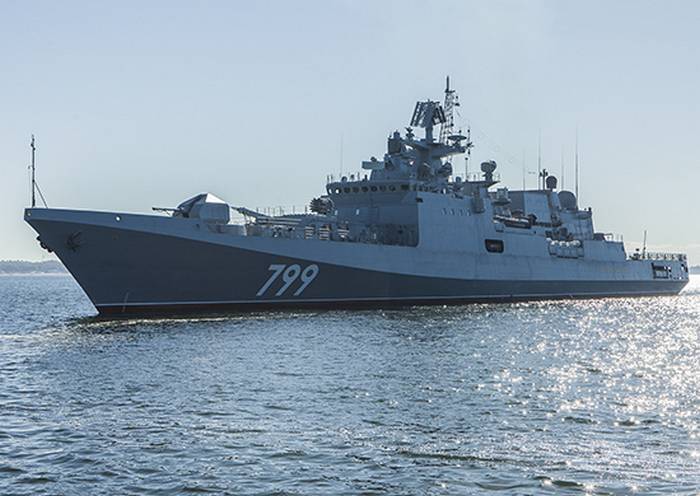 The order of the commander-in-chief of the Navy, Admiral Vladimir Korolev, was read out in a solemn ceremony, according to which the TFR was included in the formation of the surface ships of the Black Sea Fleet based in the city of Sevastopol. After that, the ritual of the first ascent of the St. Andrew's flag was made by the commander of the patrol ship Captain 2 of the rank of Gregory Breev.
The rise of the flag of St. Andrew was preceded by the successful conduct of factory running and state tests, which took place in the sea ranges of the Baltic and Northern fleets. In particular, the crew of the ship and representatives of the manufacturer in the Baltic and Barents seas carried out maneuverability and speed tests of the ship, checked the work of all units, systems and components, navigation and radio equipment, as well as the ship's armament. Dozens of rocket, anti-aircraft, artillery and torpedo firing were performed.
Among them are missile firing from the Caliber-NK and Shtil complexes, A-190 and AK-630 artillery mounts, RBU-6000 jet-bombs, and torpedo
weapons
.
The crew of the ship in cooperation with pilots of the Ka-27 marine helicopters
aviation
The Baltic Fleet has completed anti-submarine missions and search and rescue missions; more than 50 ship helicopters land on the patrol ship deck.
During the tests, the ship traveled more than 20 thousands of miles.